The complex Internet site promotion includes, among other things, analysis of the effectiveness of promotion. To track website positions is to identify the web resource's position in the search results by popular keywords or phrases at the moment of analysis. Evaluation of current results allows you to determine how effective the chosen SEO strategy is, which should be changed or adjusted.
What is search engine positions tracking?
Search engine positions tracking in simple terms is the calculation of the current position of an online resource by key queries. Positions (position in search results) are determined by search engine robots based on many parameters for different keyword phrases that users enter in the search bar to find the desired product or service.
What parameters are taken into account when Google ranks the page
Google is constantly updating its algorithms for ranking – evaluating the quality of websites, online stores, webpages and other resources.
Search engine robots evaluate hundreds of different characteristics to provide the user with the most relevant results:
Content
Link mass
Behavioral factors
Age of the resource
How easily a visitor can use your page on a mobile device
Why you need to monitor website positions
There are a number of reasons to track website positions regularly:
Analysis of the effectiveness of the chosen SEO strategy. If positions of the site is high, then the SEO strategy is chosen correctly. If positions are low, you need to understand what exactly causes the unsatisfactory result. This can be low-quality content (non-unique texts, overspammed keyword, texts that contain little use, etc.), uncomfortable resource structure, problems with usability, etc.
The effectiveness of competitor strategy. Doing an analysis of successful competitors, you can see what topics are written texts, how the reference mass is used, how the structure is organized, etc.
Conducting a detailed analysis of the positions of your site and competitive resources, you can find weaknesses and eliminate them. By improving the characteristics that affect the position of the website, you can significantly increase SEO result.
A tool for Checking Positions of a Website
Checking positions of the site in Google is a work that should be done regularly. It can be done once a week or less frequently, depending on the strategic goals and objectives of the company.
What tools are available to check the position of the site:
SEO services. These are free or paid resources that carry out a survey of the positions of websites.
Special online aggregators. Such platforms not only monitor the positions of web resources, but also offer optimization services.
Manual position checking
Some website owners check positions of their resources manually by typing keywords into the search engine and entering them into a table. This method is free, but it may take a lot of time, and the result is not highly accurate. Acceptable accuracy of results can be obtained by enabling "incognito" mode in your browser. You can manually check a small number of key phrases.
SEO services for positions checking
An effective online service for positions tracking should perform the following basic functions:
Support for major search engines
The ability to automatically monitor website
Geo-positioning option (if necessary – analysis of the effectiveness of advertising in different regions)
Unloading of detailed reports on the current positions
Collection of statistical data over periods, storage of statistical and analytical information
Ability to analyze competitors and compare positions by keywords.
Tracking website positions with Rush Analytics
We recommend using Rush Analytics Rank Checker to track your website positions. This is a convenient and effective search engine analytics service, which provides a wide range of services to achieve the goals of comprehensive online promotion of websites, online stores, weblogs.
You can check the position of a competitor's site or your own resource by following this link:
With the help of this tool you can perform such tasks:
Capture positions in Google and Yandex. You can use an unlimited number of requests and keywords by grouping them according to certain characteristics. Local monitoring allows you to take positions in different countries and regions and in different languages.
Check competitor's site positions. You can check up to 10 competitive web resources for free. Competitor analysis allows you to assess your strengths, weaknesses, opportunities and risks, and to build a strategy for expanding your business in your segment. Competitive analysis is also necessary when entering new markets.
Receive detailed reports with easy visualization. Such reports clearly show trends of growth or decline. Based on statistical and analytical data, you can develop a plan to optimize your SEO strategy and growth for the main keywords.
Benefits of Rush Analytics Tool
Our search engine analytics service provides users with a multitude of features. Each tool is provided by detailed and clear guidelines. You can also ask questions of the system's consultants in a convenient online mode.
Here are the main benefits of Rush Analytics tracking position tool:
Work with Google and Yandex search engines without region restrictions: you can choose a city or area you want to track your positions in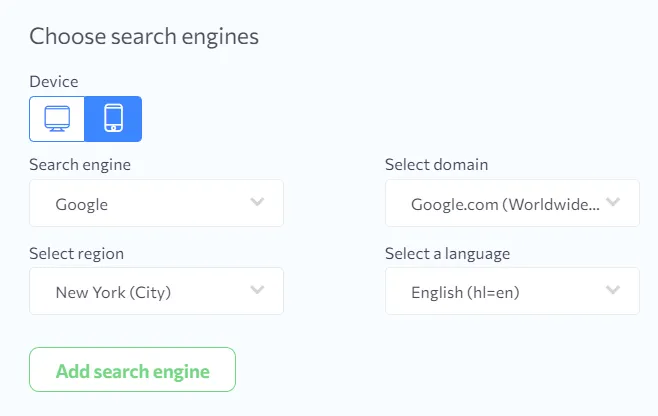 Check the current position of the site from a mobile device or a PC
Track up to 100 000 keywords
Monitor snippets by their position in the results, relevance to a search query, external attractiveness of the text block

The service is suitable for analyzing the positions of sites with Cyrillic domain name
Guide to working in the online interface
The platform provides extensive functionality for the analysis of online resources. Description of the functionality and algorithms can be found in the web-interface of each tool. We provide you with a video-guide about how to use the tool, as well.
This functionality allows you:
Edit the assigned task. This option includes the ability to change the name of the task, the URL address of the site being analyzed, the correction of the checking position periods, the list of keywords, and competitive online resources to be tracked


View collected data. Graphs show the sources (search engines) and period of data collection, positions (top) for all or separately selected key phrases. The region is displayed, sorted by groups (if this option is selected). Target URLs can be tracked for specific keywords. An important parameter is the ability to see the amount of traffic (number of visitors) who came by the selected search keyword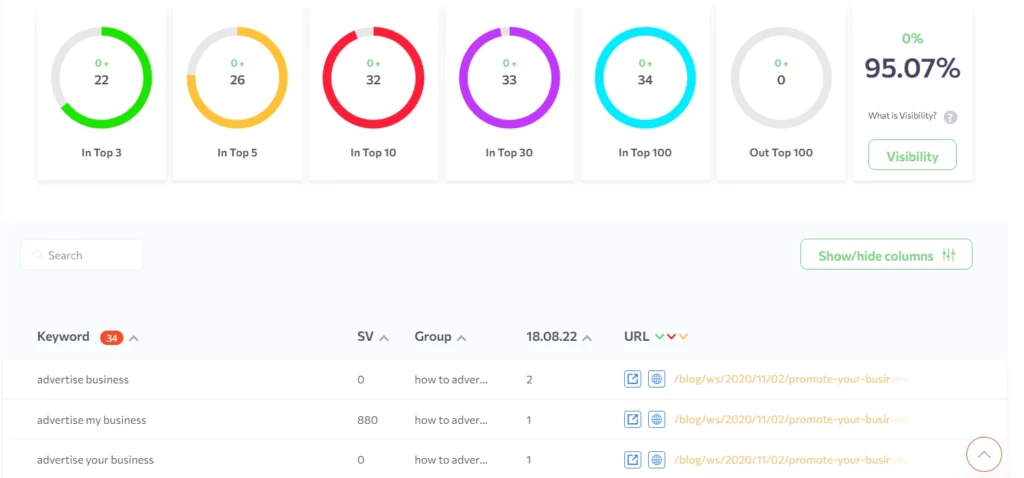 Choose different types of data visualization. You can select panels with different data display formats. Basic views: Default, History of positions, History of URLs, History of snippets.
Sort information by URL, keywords, frequency, groups, date, positions.
Access via guest link. By copying the guest link you can send it to another user. This is a useful option for SEO professionals who manage multiple projects for their clients. The guest link will allow them to view website position reeports without having to register with the Rush Analytics platform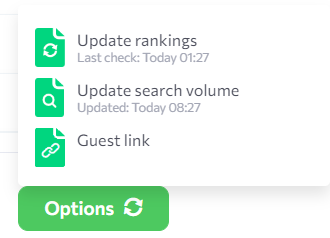 Analyze the positions in a convenient way. Keyword visibility is shown in graphs for a specific keyword or keyword groups. The graph can be built with the date of evaluation, region, search engine, customizing the visibility of the data to your liking.
Analyze competitors. The module allows you to check the positions of competitive sites, monitor the visibility of the percentage of keywords at the top (first three, five, ten). Thus it is possible to track the leaders of your niche on the reports generated in the form of histograms.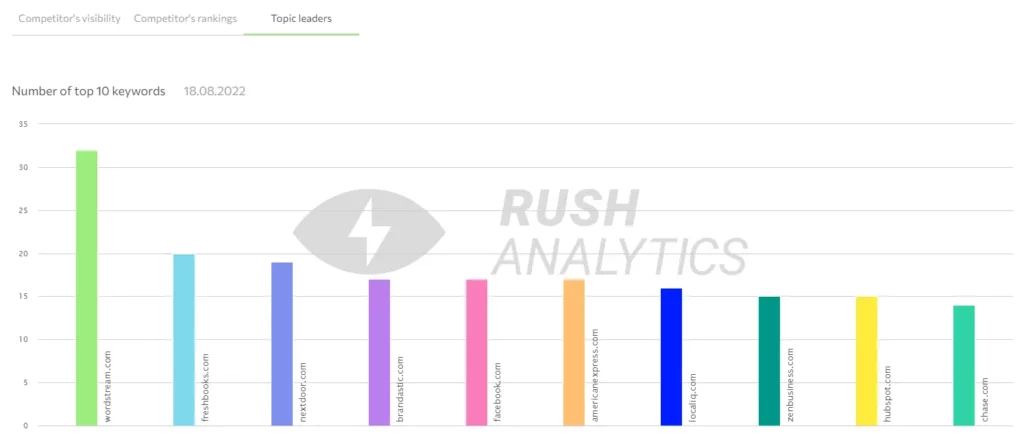 Make detailed reports. You can generate a simplified report showing the date of data collection, keywords, groups of queries, and URLs of analyzed websites. The full report includes task graphs, URL history, snippet and position history.
Conclusion
Tracking site positions is a necessary step in the website promotion strategy. A lot of external and internal factors, competitors' activity and interests of target groups influence reaching the top on the main key requests. That is why it is necessary to constantly monitor your positions and adjust your advertising campaigns according to the current situation in your niche.
---