Domain authority checker is a tool for collecting the parameters of a domain's backlink weight. Allows you to analyze the number of backlinks, as well as their type, the number of referring domains, and many other parameters that can help determine the authority of a domain.
Backlinks are links that lead to your website from third-party resources. They should also be of high quality and match the theme of the site. Quality backlinks help with promoting your site in search engines. Toxic links, (links from spam sites) can harm the site, and in the future, if there are too many of these links, search engines can ban your site. The Backlinks Authority tool allows you to analyze and monitor the backlink domain's weight.
Creating a new task
1. Create a new task. The procedure is simple: first, select Backlinks Authority from the left side menu and click on it. You will be taken to the tool section. Then simply click on the "Create new task" button: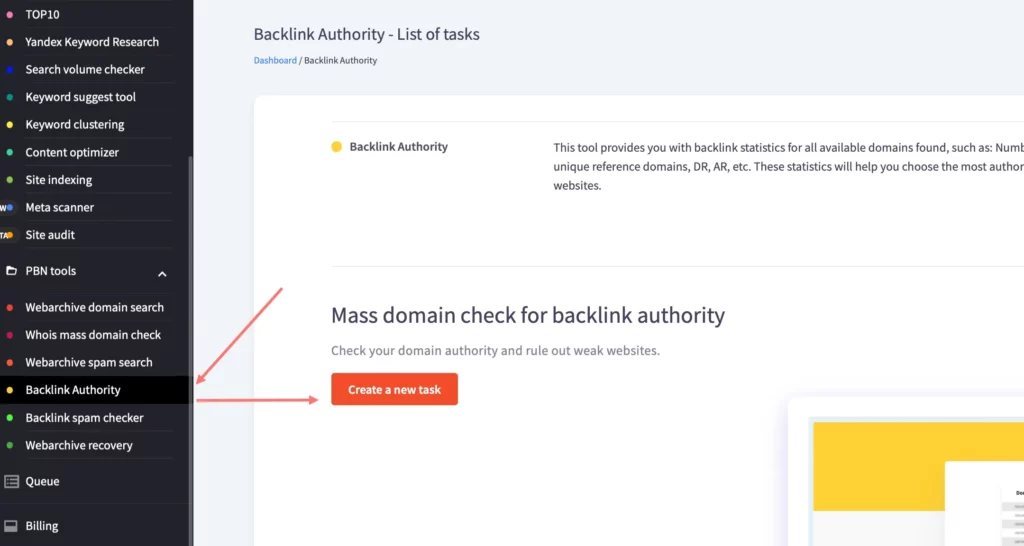 In the task creation window, enter its name and go to the next step.
Then, in the text area, add the domains you want to check, each on a new line, without http:// and www. You can also import them from an Excel file. Don't forget to click on the "Add domains" button: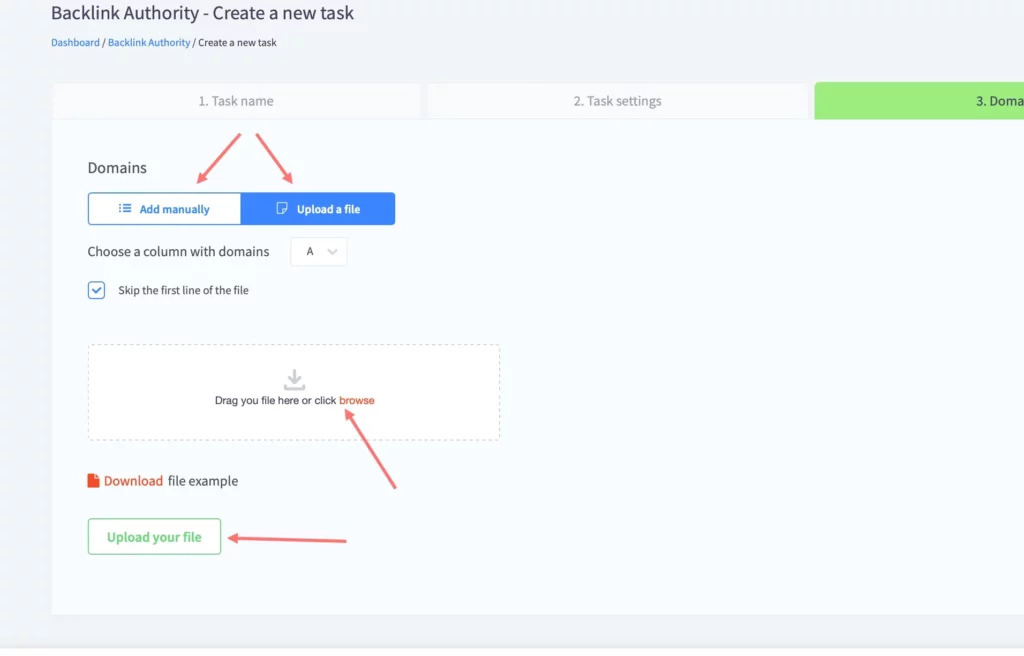 To start the task, click the "Create new task" button and then, in the window that appears, click to confirm.
The task you started will be displayed on the Backlink Authority task list. There, you can track the status of the task.
When the task is ready, a link to download a report file will appear, and you can also go to the task and view the results in the web interface:

In the results of the task you will get domain backlink parameters:
Backlinks – Number of backlinks to your domain
Text – The presence of text on referring donor pages
Image – The presence of images on referring pages
Nofollow – Number of backlinks with the attribute "nofollow"
Dofollow – Number of backlinks with the attribute "dofollow": active links indicating for the search bot to go to the page and index it
Redirect – Number of domains with redirects to your site
Gov – Number of domains in the .gov TLD
Edu – Number of domains in the .edu TLD
Refdomains – Number of domains with referrals to your site
Refips – Donor IP addresses
Domain rating – The backlink rating of your domain
All this data can be downloaded in convenient Excel format.