The Site Audit tool allows you to find technical problems with your site and improve its performance for search engines and users.
The tool's features:
Checks the main parameters of the site:
Robots.txt file
Sitemap .xml
Resources with 4xx status code
Resources with 5xx status code
Pages with the "refresh" meta tag
No "viewport" tag
HTTPS encryption
Domain registration period
Hreflang attribute errors
Presence of SSL certificate
Checks crawling and indexing of the site:
Pages not allowed to be crawled
Pages closed from indexing
Pages with a large number of redirects
Checks links:
Link parameters
Too many links on one page
URLs too long
Checks content and tags:
Empty "title" tags
Duplicate "title" tags
Long "title" tags
Short "title" tags
Duplicate "h1" and "title" tags
Empty "description" tags
Duplicate "description" tags
Long "description" tags
Short "description" tags
No "h1" tags
Checks website speed on desktop and mobile (based on Lighthouse):
Performance
First Contentful Paint
Use of browser cache
Optimize images
Reduced JavaScript code
Largest Contentful Paint (LCP)
First Input Delay (FID)
Cumulative Layout Shift (CLS)
Step-by-step guide for using this service:
Task creation. To create a task, go to the Site Audit tab and click on "Create New Task".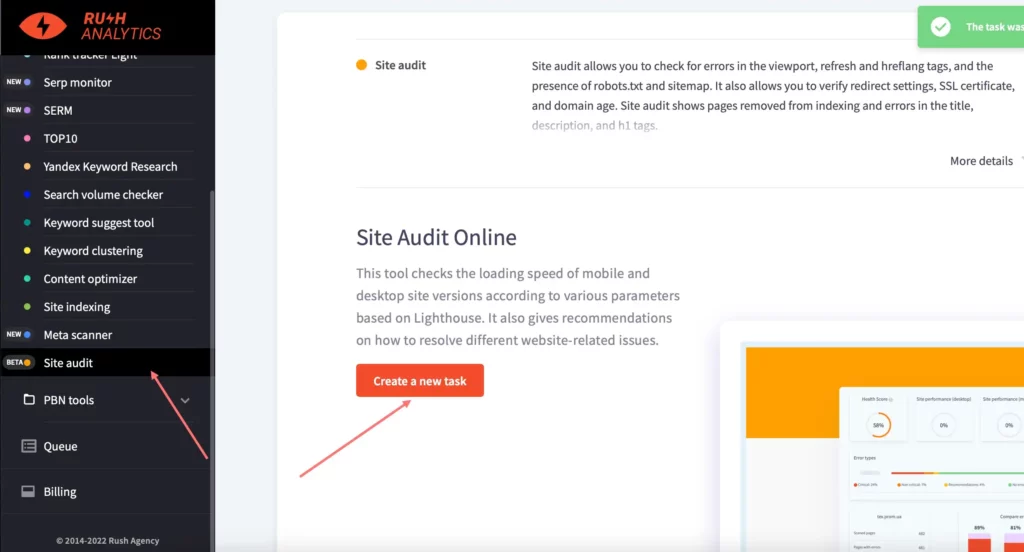 Step one.
Here, you need to enter the name of the task (mandatory field). You can enter any name; it is often convenient to enter the name of the site so that you can easily find the right task in the future.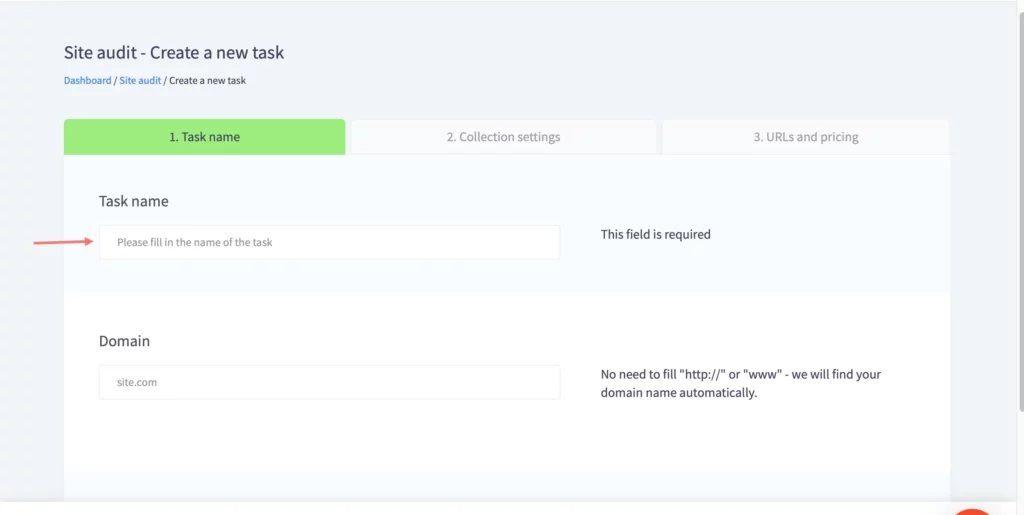 Then, you need to enter the domain of the site you want to check. You do not need to use http:// or www – we will find your domain ourselves.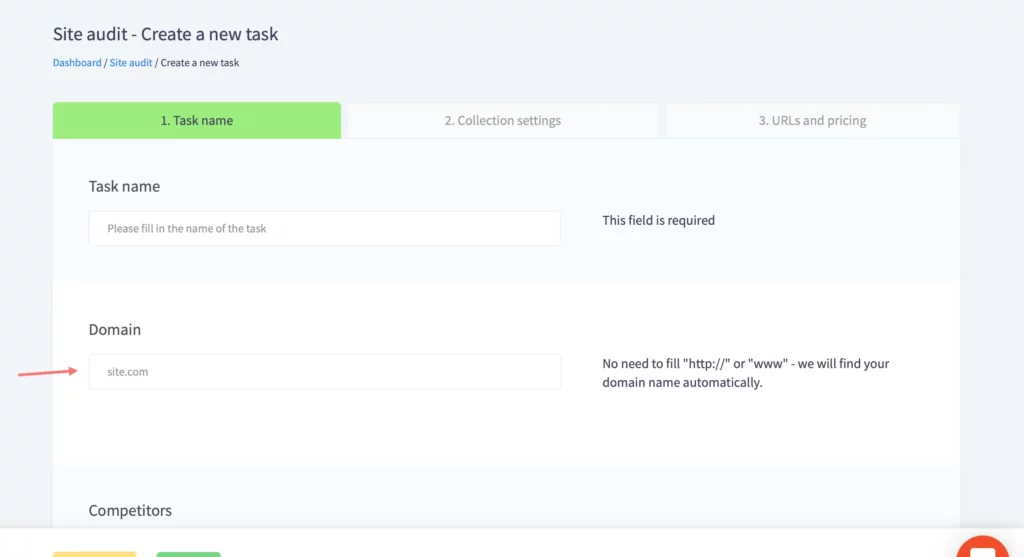 Next, you can enter up to 4 competitor domains, which we will also audit, and you can compare the performance of your site with your competitors.
You can enter a competitor's site map URL in this field, and we will audit all URLs from the map; or you can enter a specific URL, and the audit will be conducted only on it.
Adding competitors to the project does not change the cost; it is free.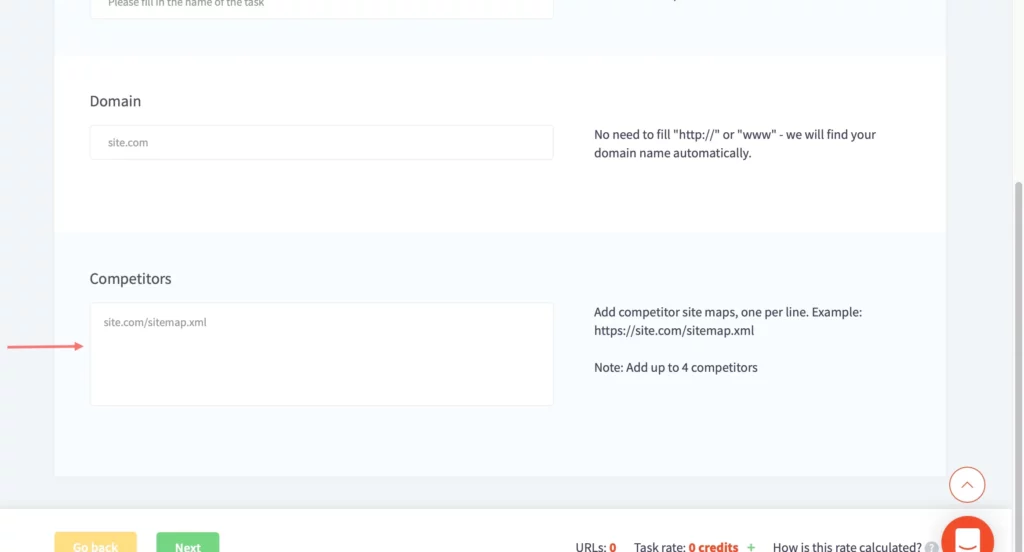 Step two: Task settings
In this step, you can choose which User Agent you want to crawl your site with.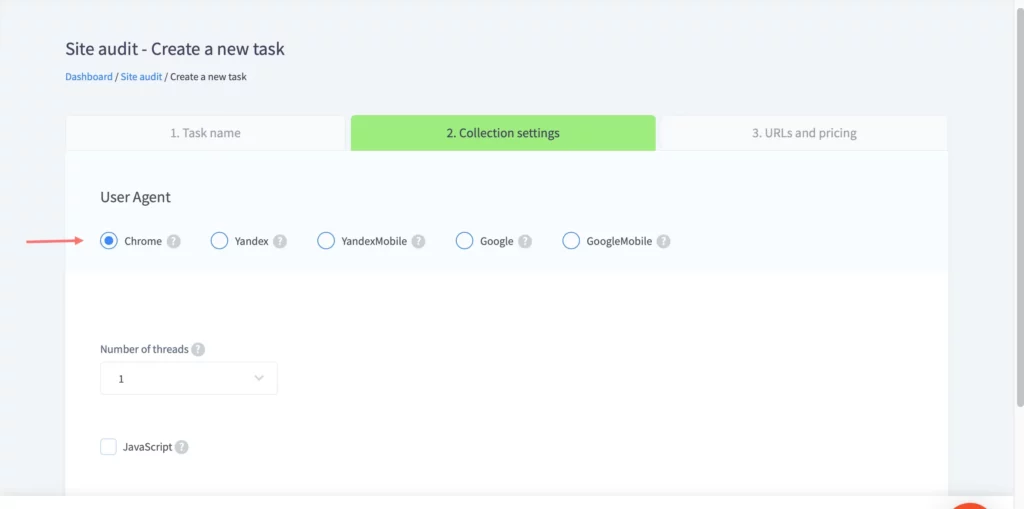 The second setting in this step is to select the number of threads. This option limits the number of simultaneous parsing threads for your site. For sites that cannot handle a heavy load, we recommend not setting more than 5 threads. A higher number of threads can severely slow down the site or disrupt its performance.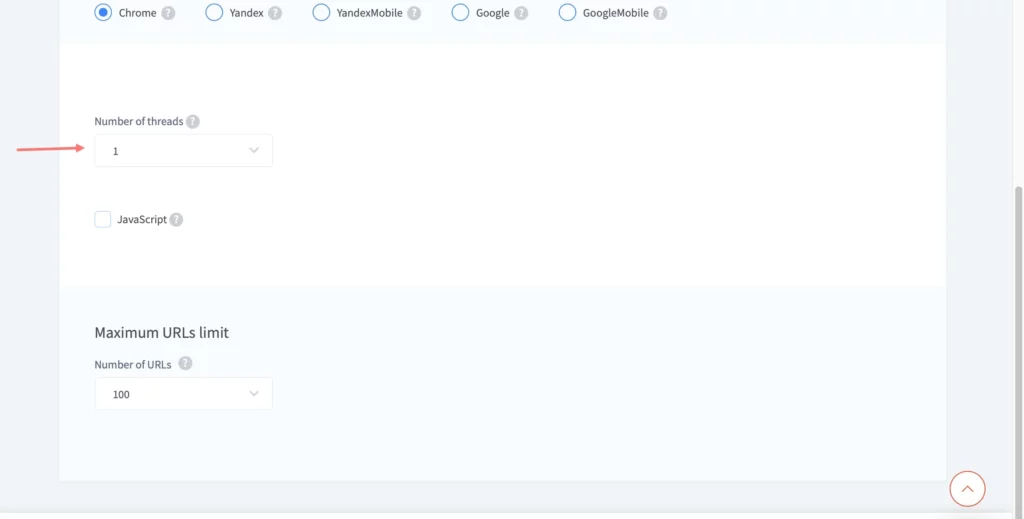 Next, you need to select the number of pages that will be checked. This restriction applies to the main domain as well as to competitors' domains.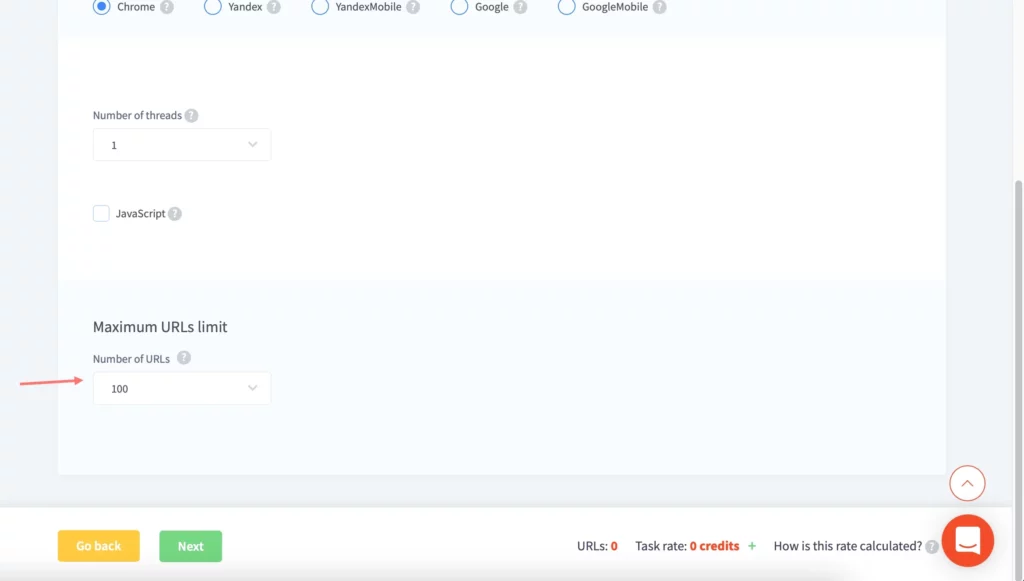 Step three: URLs and price
Here, it is possible to automatically crawl URLs for the main domain, as well as upload URLs in the interface field, through a file, and through a link to an XML sitemap file.
If you select automatic URL crawling, our crawler will collect all pages from the domain you specify.
Automatic URL Crawling cannot be combined with other URL upload options in the task.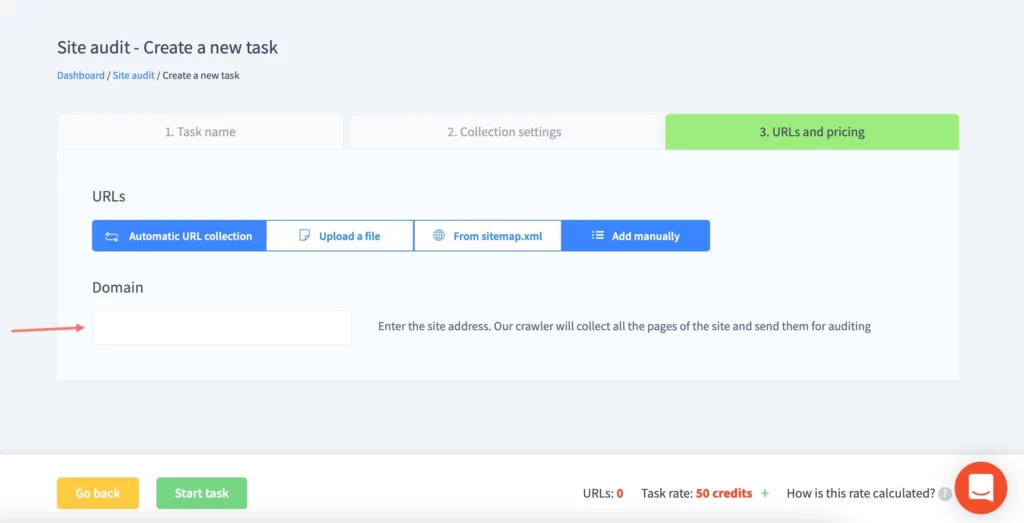 Click "Launch task". Your task has been sent for auditing!
You can now track the status of the task in the site audit task list.
Guide to editing the task
Here you can:
Change task name
Add competitors
Add new URLs to audit
Save new settings
Guide to using the web interface
In the web interface of a task, you can go to edit it, download a report with task data, and view data.
To go to the task view, you need to click on the task name in the task list.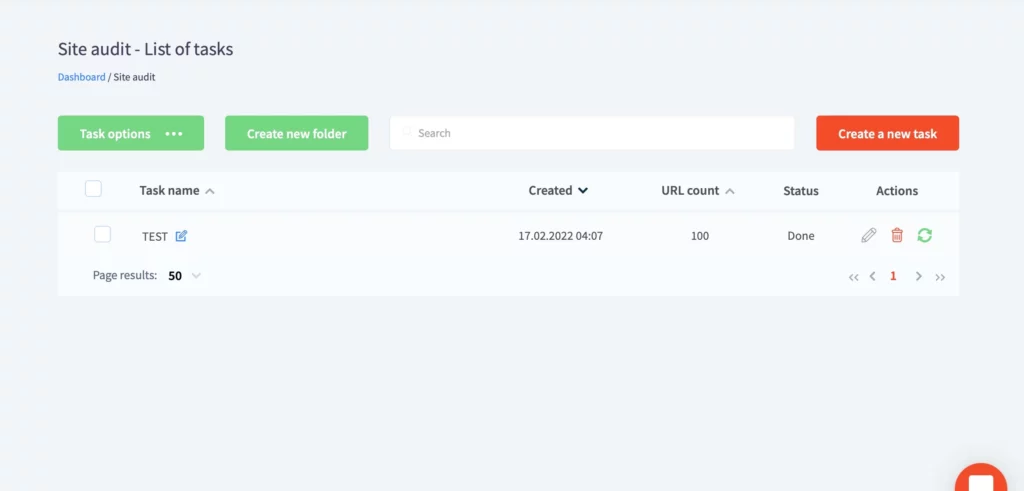 "Dashboard" tab
This tab contains the main parameters of the domain for which the audit was carried out, as well as the site status and Core Web Vitals diagrams.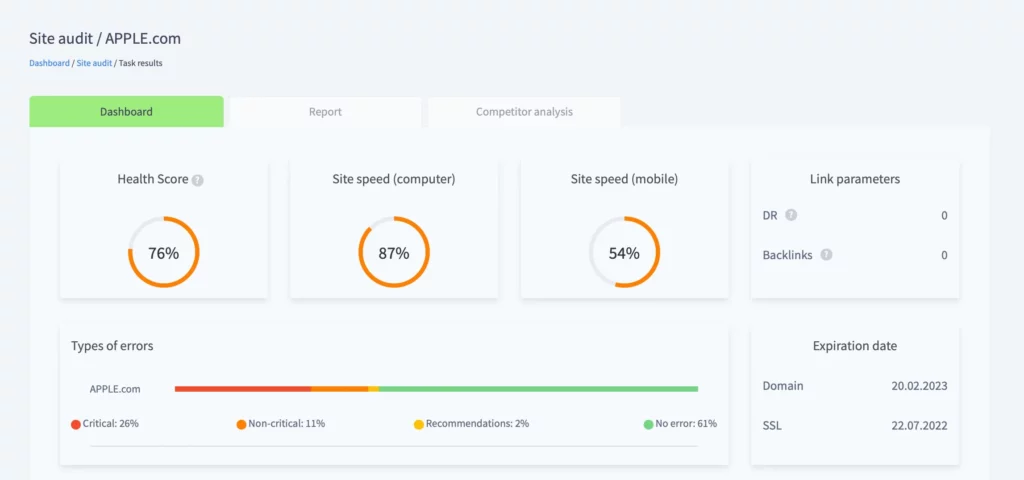 Health Score – status of the site
Performance (desktop)
Performance (mobile)
Link settings
Domain Rank
BackLinks
Error types (critical, non-critical, advice)
Expiration date
SSL certificate validity period
Number of pages scanned
Competitor error comparison
Core Web Vitals
Report tab
This tab contains information on the state of the resource for each parameter and provides recommendations for fixing them.
Green – no problems with this parameter.
Red – critical error.
Orange – Non-critical errors (important issues).
Yellow – recommendations.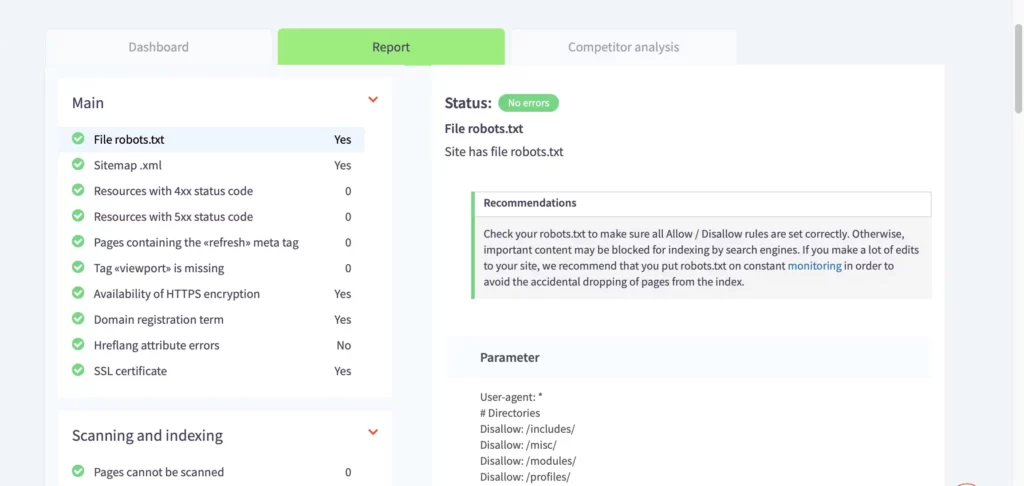 Competitor comparison tab
In this tab, you will find a table to compare the performance of your website with your competitors' websites for all the main parameters.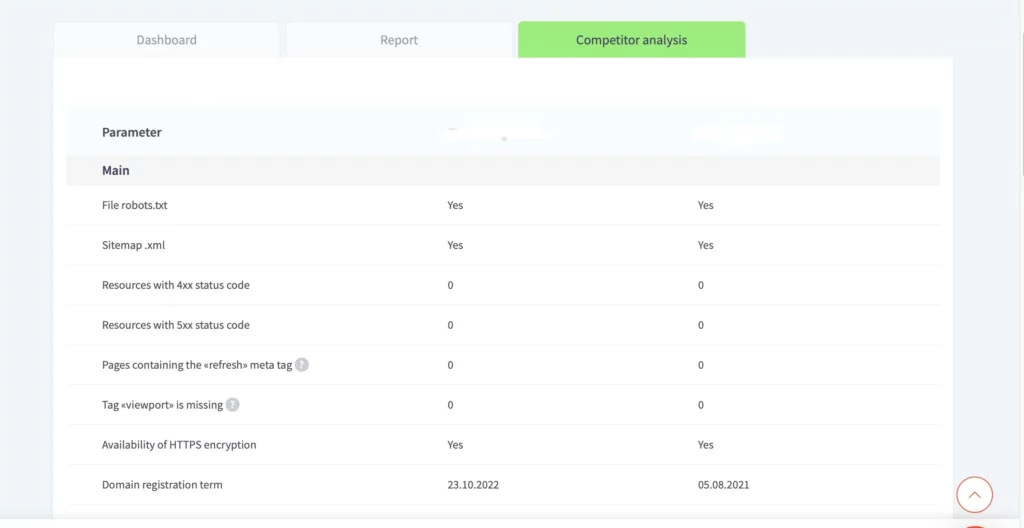 Site audit report file
The site audit report is available in two formats: XLSX and PDF.

The reports provide data on audits of the main domain and competitor domains, and provide recommendations for fixes for each parameter.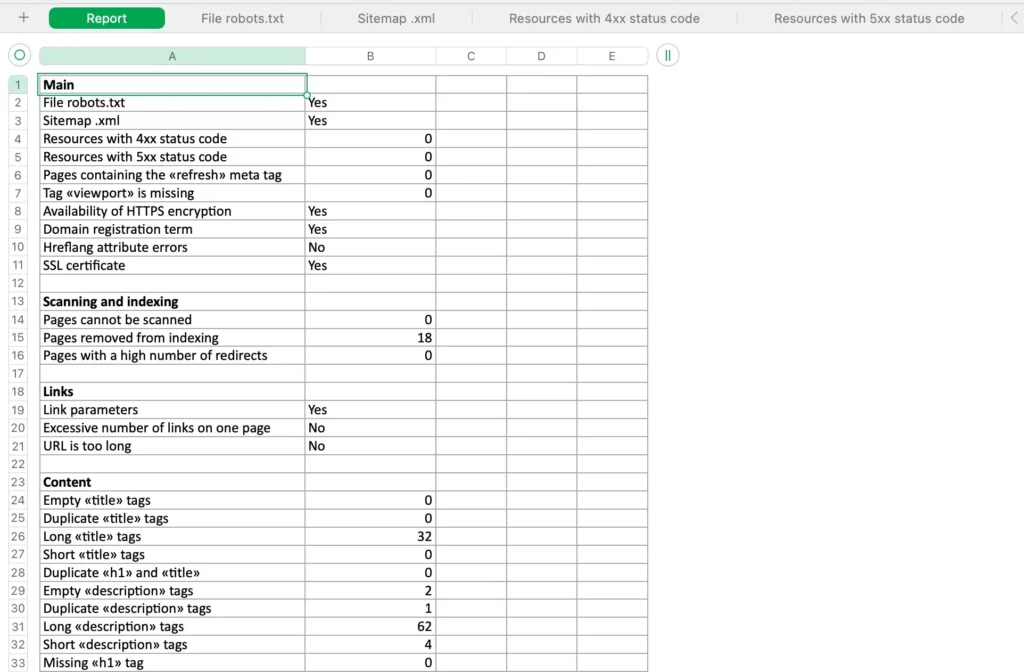 The PDF report also includes data from the dashboard.