Regularly checking the positions of your site allows you to see what positions the site takes in search engines for the keywords you need.
You can also track changes in search positions over time. Use Rank Checker Tool for this purpose.
* Keyword positions are the rankings of your website in search results
Features of the Rank Tracker
Determining the position of the site in search engines: Yandex all regions, Google all regions and all languages.
Check the positions of the site for mobile devices and desktop devices
Free competitor position checking
Unlimited number of regions per task
Up to 100,000 keywords per task
Snippet Monitoring
Customizable frequency of monitoring
Full editing of tasks in the web interface
Ability to add groups of keywords
Convenient filters to sort data
Detailed report on your keywords in an Excel file
Data processing speed
Step-by-step guide:
1. Creating a task
2. How to add keywords, groups, and URLs to the task
3. How to divide keywords into groups
4. Working in the web interface
5. Guest link
6. Task visibility
7. Competitor analysis
8. Editing tasks
9. How to update keywords, groups, and URLs in a task
10. Output file of the Rank Tracker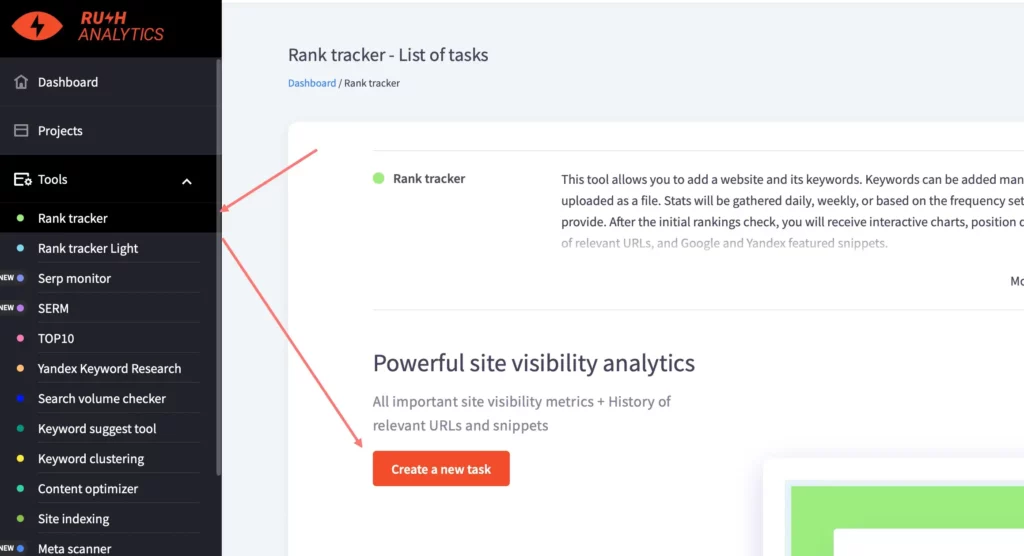 Step one: Creating a task
To create a task, go to the Rank Tracker tab and click on "Create New Task".
Here you need to enter the name of the task (mandatory field). You can enter any name; it is often convenient to enter the name of the site so that in the future it will be easy to find the right task.
Next, specify the URL of the site for which you are going to collect the positions; positions will be taken for the entire site. If you need to collect positions for one specific URL (for example, for a group in social networks or your page on YouTube) choose the "Exact URL" option under the expert options.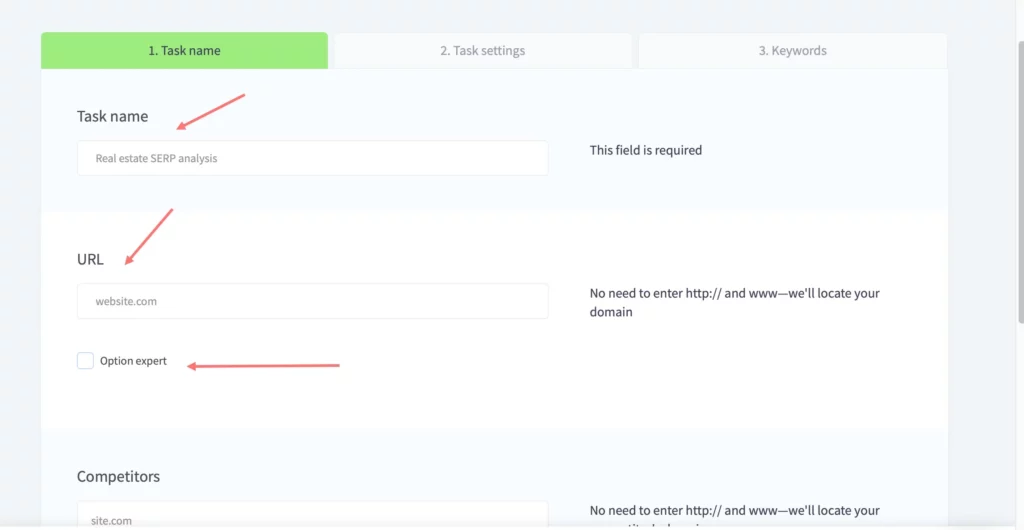 Frequency of position updates

There are several options for how often positions are collected:
Daily – positions will be collected every day.
Weekly – positions will be collected once a week.
Manually – positions will be collected only when you do it manually.
Also at this step, you can connect access to analytics: Yandex Metrika and Google Search Console. All you need to do is click on the "Connect access" button and then log in to your Yandex or Google account: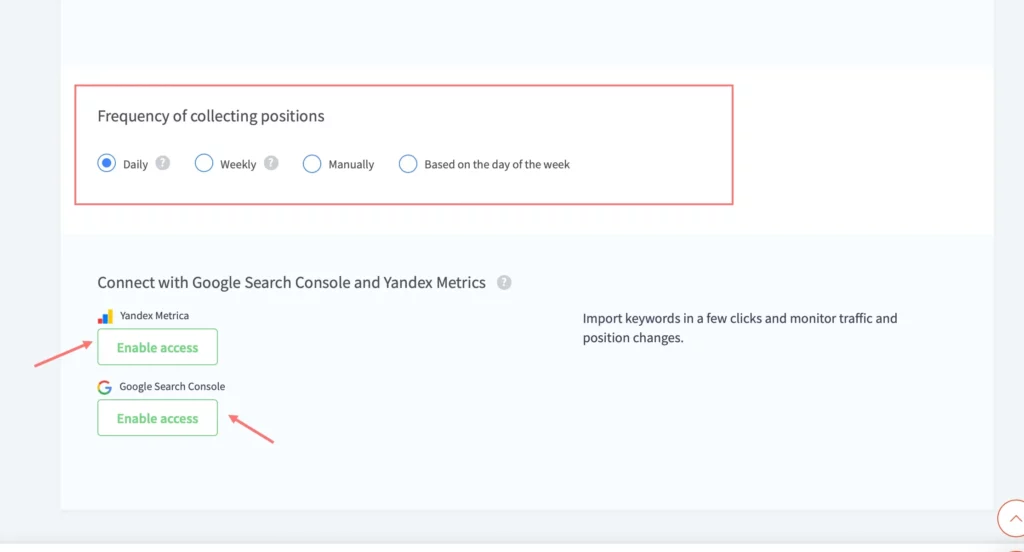 After the access connection procedure, "Select site" will appear instead of "Connect access". Be sure to click on it and select the site you want to import information from. You can then proceed to the next step.
Step two: Task settings
Here you need to select the device for which you are going to check the positions, and the search engine which will be used to collect them. You can choose to collect positions from Yandex and/or Google.
For Yandex, all regions are available.
For Google, all regions and all languages are available.
An unlimited number of regions can be added to the task.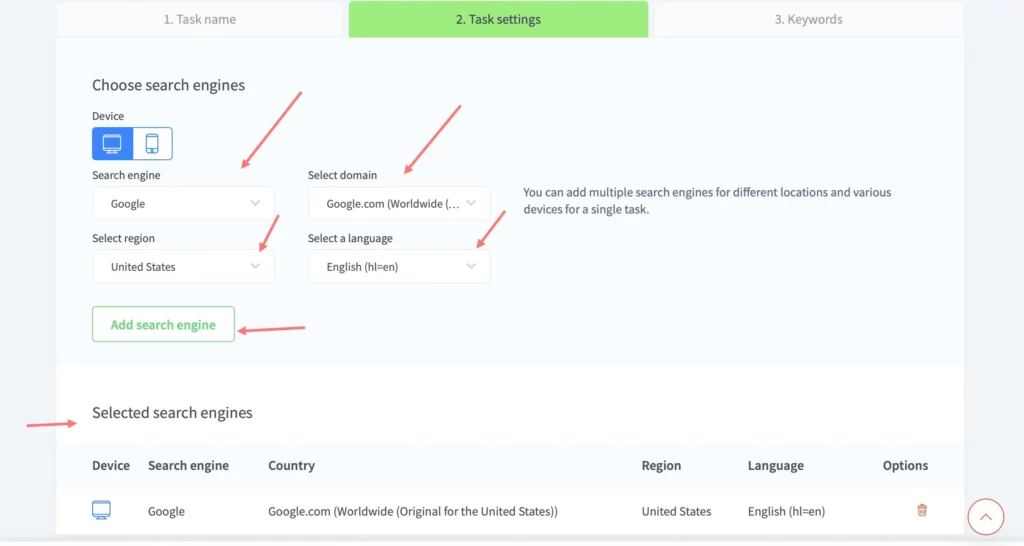 Step three: Keywords and price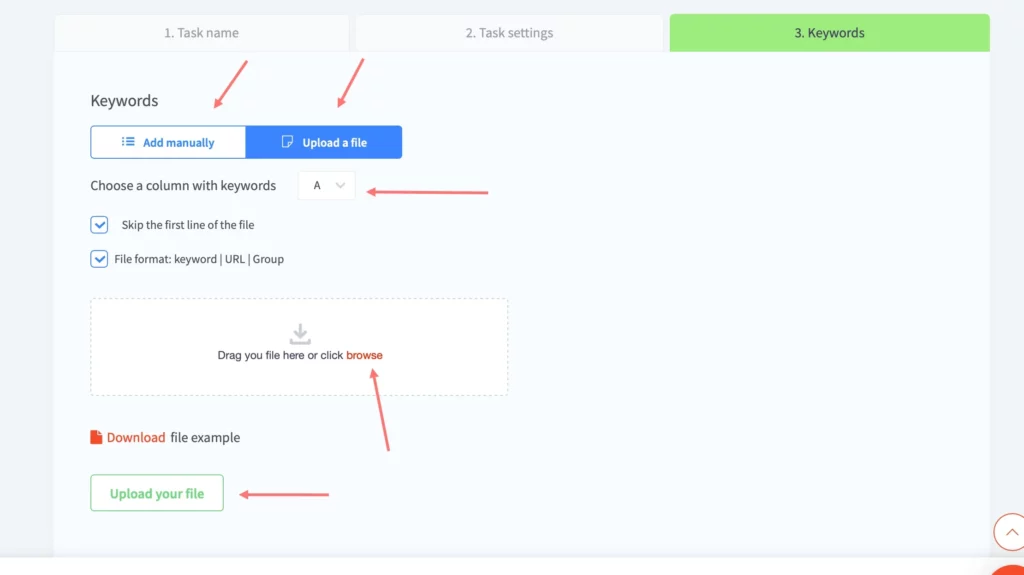 Here it is possible to upload keywords in the interface field as well as via a file.
Using a file, you can upload not only keywords but also groups and relevant URLs for them. You can download a sample file for uploading.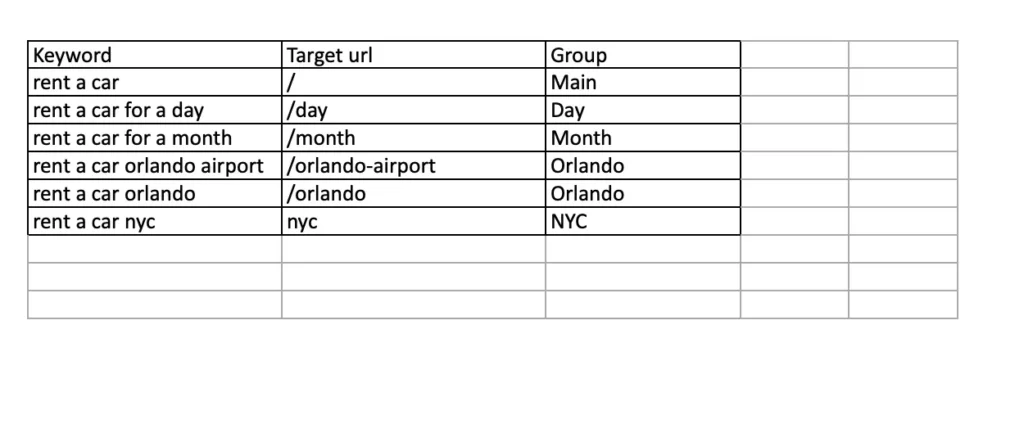 In column "A" we give the keywords.
In column "B" we give the relevant URLs.
In column "C" we enter the names of groups.
If you activated access to Yandex Metrika or Google Search Console on the first step, you will also see the "Import Keywords" tab in this window. This can be used to directly import search keywords along with traffic from Google and Yandex for a selected period: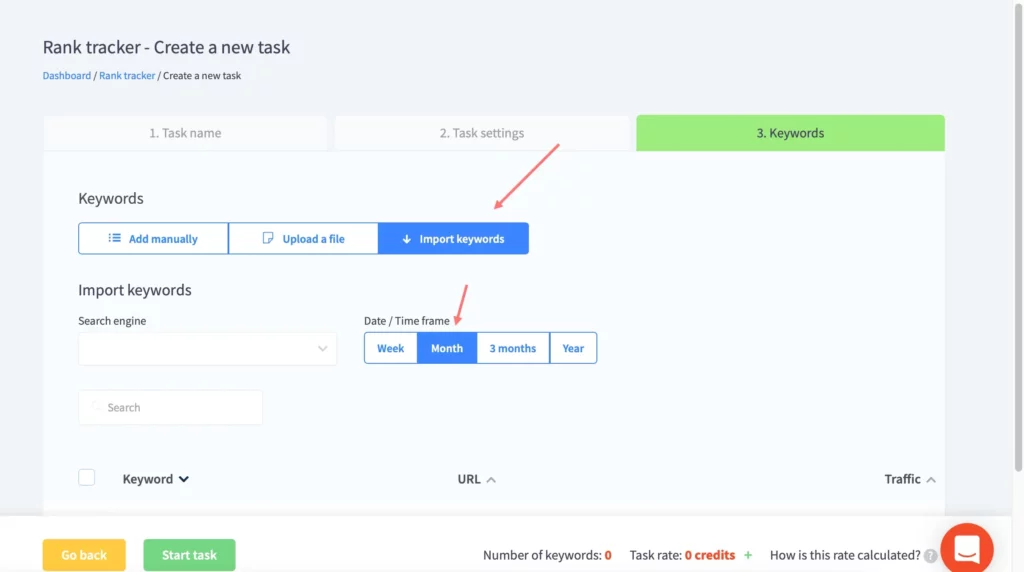 To add keywords, tick the box and click "Add keywords".
Click "Create new task". Your task has been sent to the rank tracker!
You can track the status of the task in the "Queue" tab or the list of tasks by the rank tracker.
Rush Analytics currently has several statuses:
In Queue – no data is being collected yet; the task is waiting its turn to collect data.
Parsing – the counter shows how many keywords are being processed.
Ready – the task is ready; you can view the results in the web interface or download them in XLSX format.
How to split keywords into groups
Why do I need to split keywords into groups?
It allows you to see more clearly what is happening to your positions on a single page, in individual directory sections, and for page types (card or directory), keyword types, etc. You can also monitor the visibility of all keywords by groups leading to a section or page, analyze changes in position by keyword group after updates, and react to changes in the ranking quickly and more accurately.
How do I split the keywords into groups?
Keywords leading to a category/subcategory (Multicookers, cookers, fridges)
Keywords by type of page – category/category+brand+tag, product card keywords
By High Volume, Low Volume
Example of keyword visibility by groups: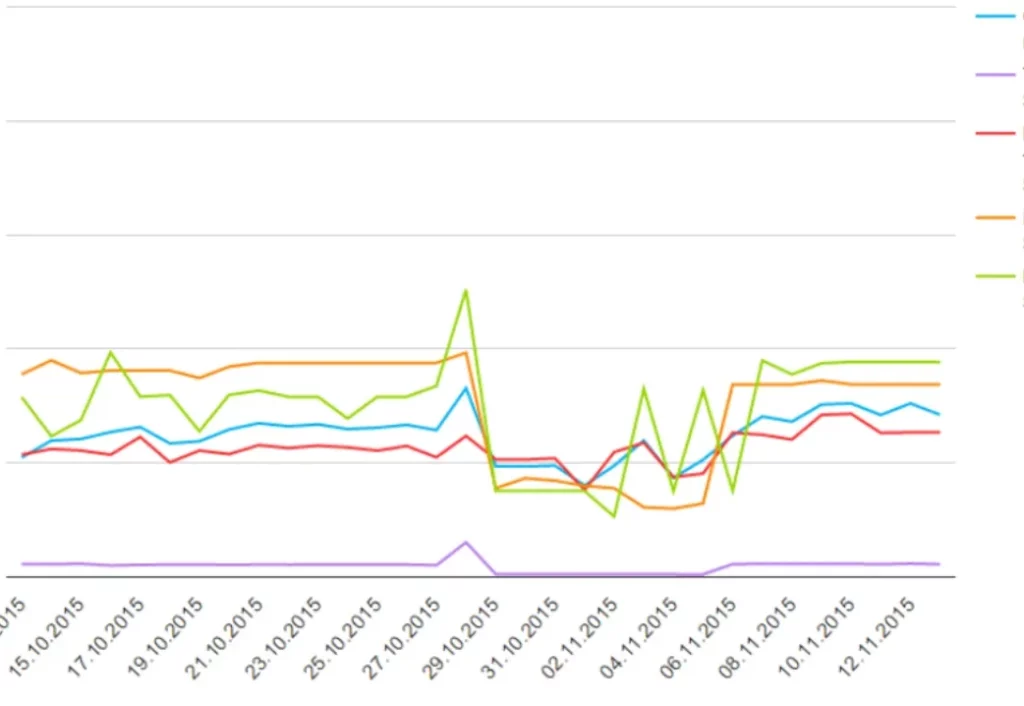 Example of keyword position dynamics by group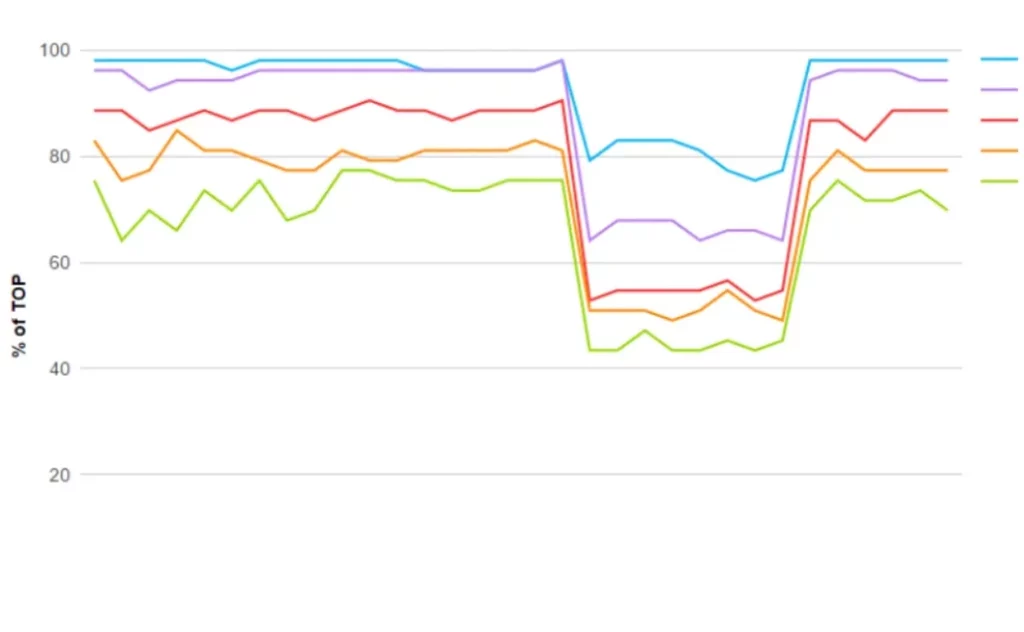 Working in the web interface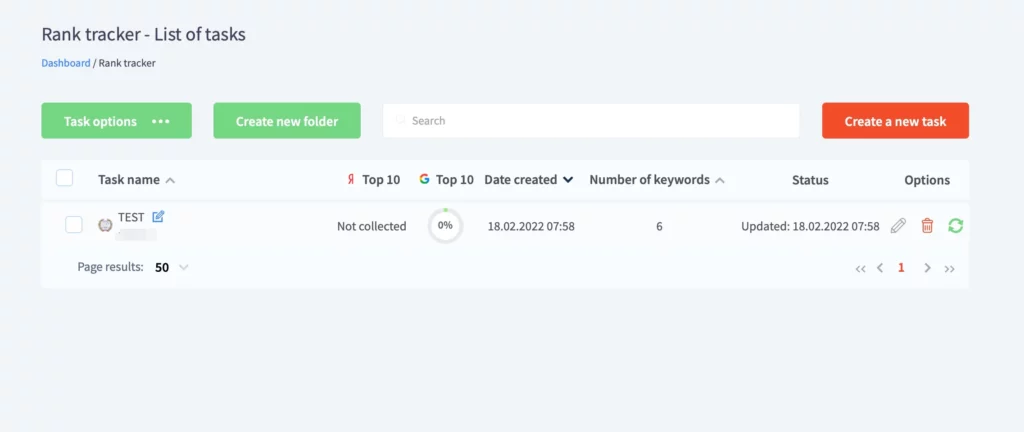 Go to the task web interface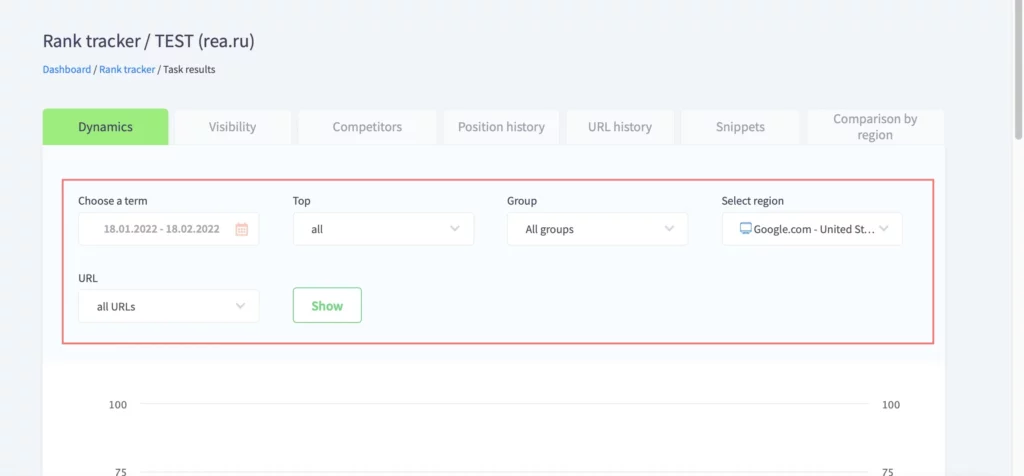 In the web interface of the task, you can edit the task, download a report with task data, and view the data.
You can view graph data by the following parameters:
Data collection period
Source – Google or Yandex search engine.
Top – allows you to display data from all positions together, or data that only occupies a certain position in the search engine.
Group – sorts the data according to your groups.
Region – shows data from a selected region.
To view the data on the selected parameters, click on the "Show" button after selecting them.
If you click on the globe icon in the URL column, a dialog box appears where you can manually set the target URL for a specific keyword.
The "Traffic" column shows the number of visitors over the period you have selected to display: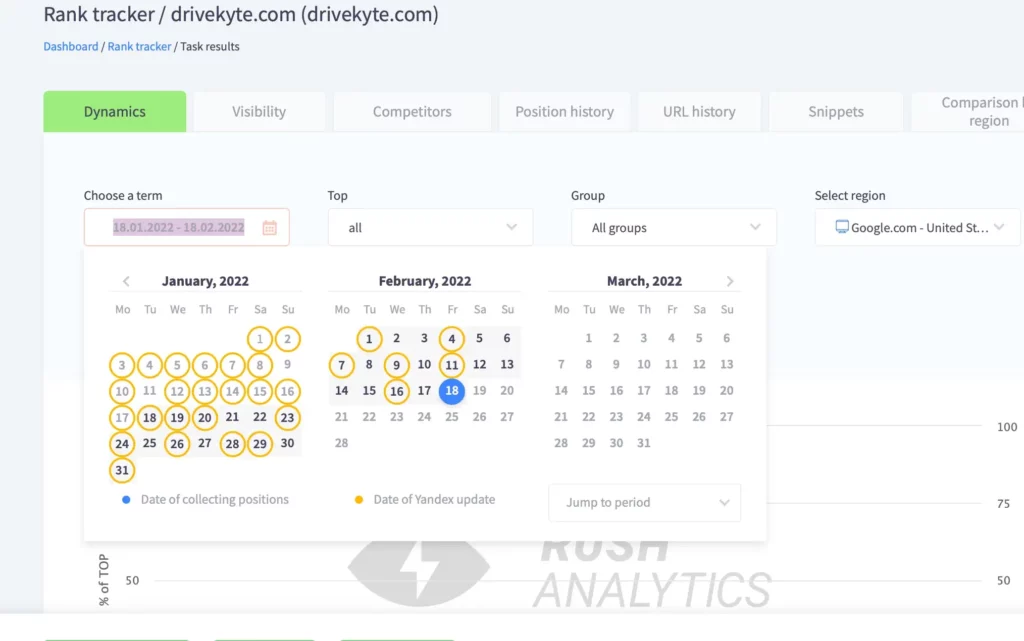 Display type of data
In this panel, you can select the view of the data you want to view:
Default view
Position history
URL history
Snippet history
Also, here you can:
Update rankings
Update search volume
Sort data
The data can be sorted by:
Keyword
Search volume
Groups
Date
Positions
By URL
You can also search the web interface for a specific keyword.
You will also find a guest link in the web interface: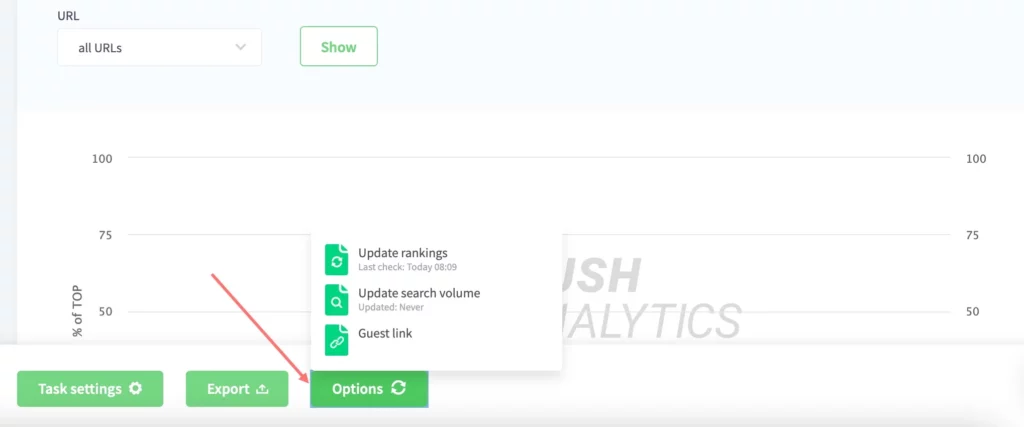 Simply copy it into the input line on your browser or send it to your client.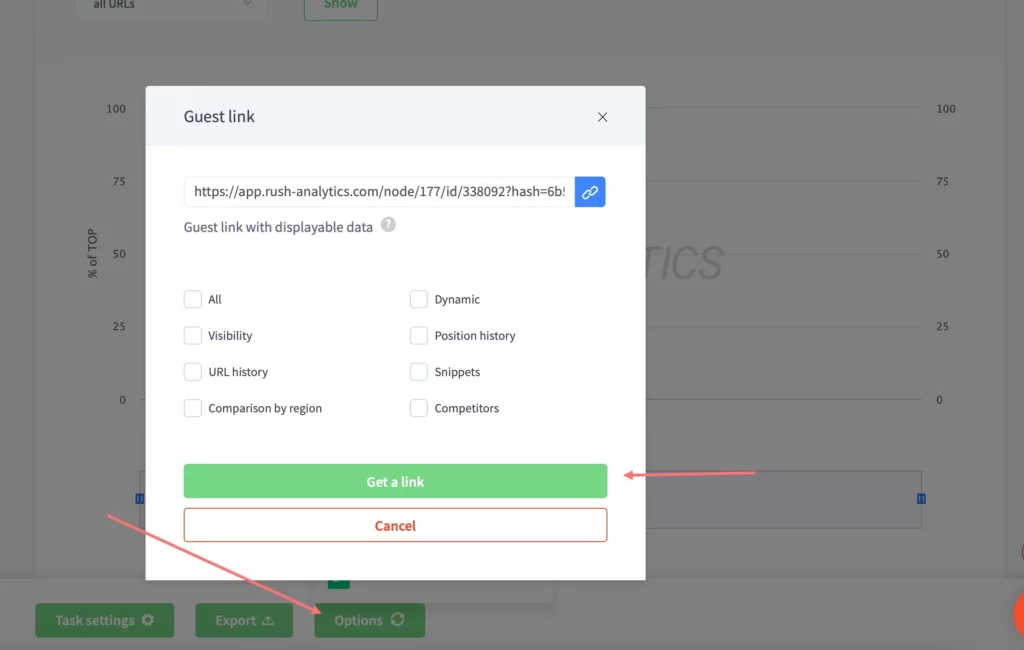 The guest link allows you to view all your task data: graphs, positions, and trends.
You don't need to be registered in Rush Analytics. One link is enough to have access to all your task data.

This functionality allows you to assess the real results of website SEO in a search engine in 1-2 clicks using an intuitive interface.
The system automatically shows which of the selected keywords are popular and in-demand with users, and which are just a useless burden on your budget. It allows you to track the potential of attracting more traffic and take quick corrective actions.
The range of keywords accounted for is only within the top 20 search results based on actual online user behavior. Q1, Q2,… Qn is the visibility factor of the keywords 1,2,… n in this group. Q1 = 1 if the keyword ranking is from 1 to 3, inclusive. Q2 = 0.85 if the keyword ranking is 4. Q3 = 0.6, if the keyword ranking is 5. Q4 = 0.5 if the keyword ranking is from 6 to 7, inclusive. Q5 = 0.3 if the keyword ranking is from 8 to 9, inclusive. Q6 = 0.2 if the keyword ranking is 10. Q7 = 0.1, if the keyword position is from 11 to 15, inclusive. Q8 = 0.05 if the keyword ranking is from 16 to 20, inclusive. SV1, SV2 … SVn – the exact keyword frequency VIS – visibility of the keyword group in % VIS = 100 (Q1SV1 + Q2SV2 +… + QnSVn) / (SV1 + SV2 +… + SVn) The visibility is displayed on the graph for each group of keywords. If groups are not added, then the total visibility for all project keywords is shown instead. Add groups to the project for more detailed analytics (go to the project settings).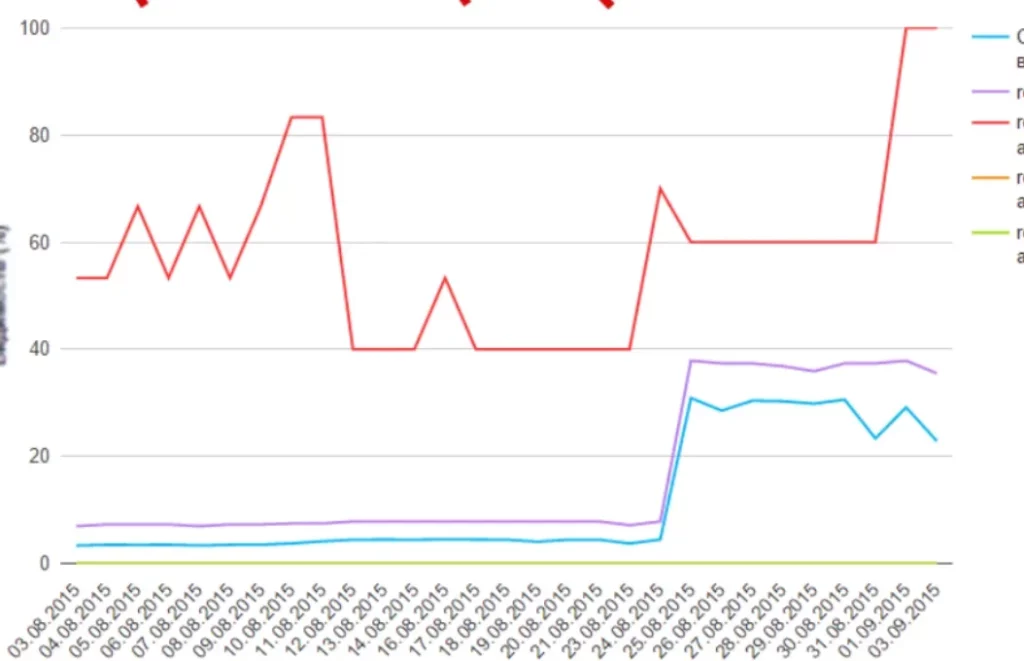 In the task visibility tab, you can specify the search engine, region, and date for which data will be displayed.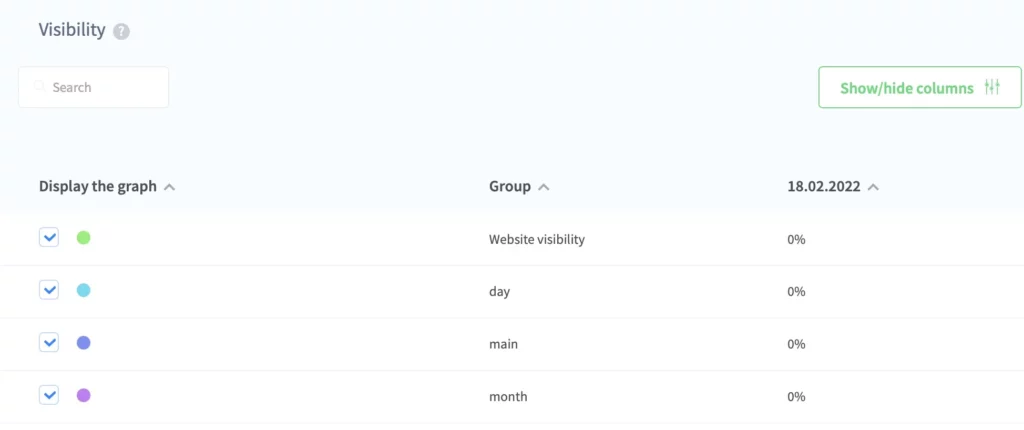 Add groups to your task for a more detailed analysis of your rankings (go to the task settings).
Competitor analysis is also included in the Rank Tracker tool.
The competitor analysis is completely free of charge.
Features of the Competitor Analysis module:
Checking competitor positions
Monitoring of visibility, % of keywords in TOP10/5/3 of 50 competitor sites each position check
Keyword Rank Tracker for 10 selected competitors for free
Reporting on your niche leaders – TOP50 domains by visibility on a bar chart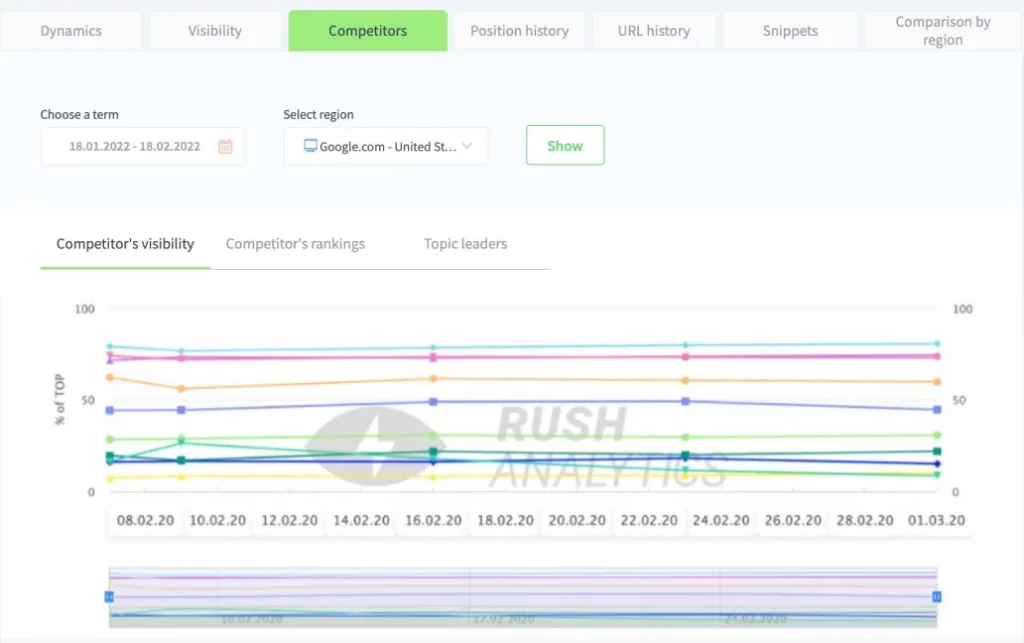 By default, the competitor report displays your site and selected competitors on the graph, but you can display as many competitor sites on the graphs as you want.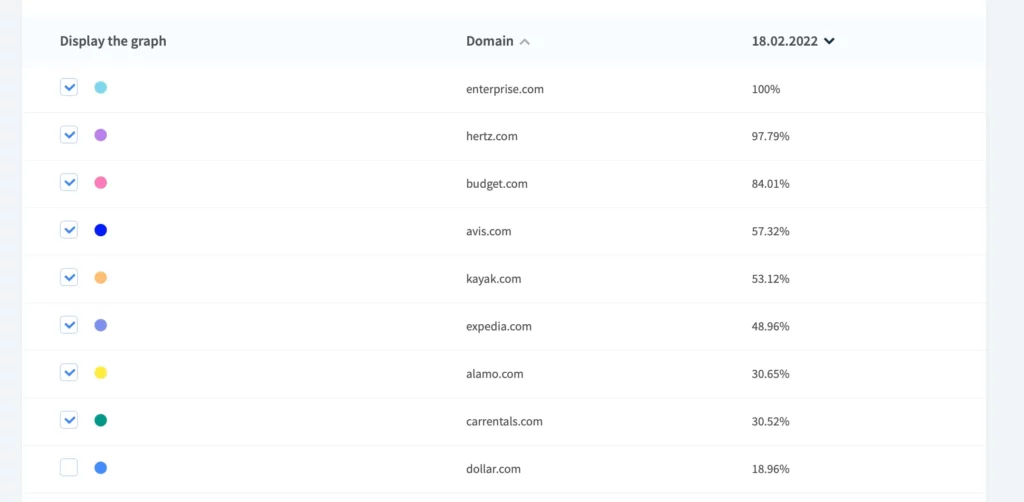 Topic leaders report: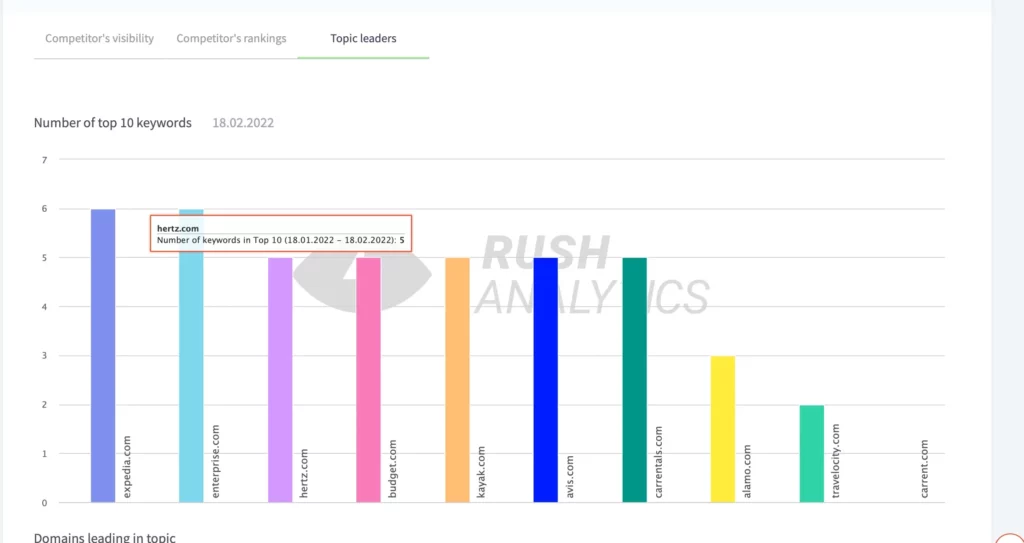 On the "Topic Leaders" tab, you will find a summary report in the form of a bar chart.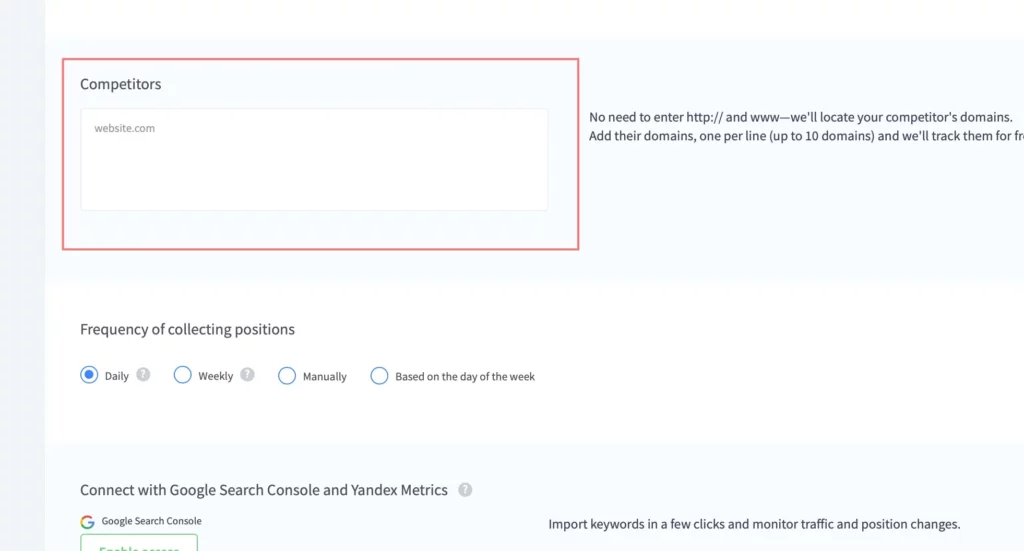 You can add selected competitors either when creating a rank tracker task or in the Edit Task mode.
Editing tasks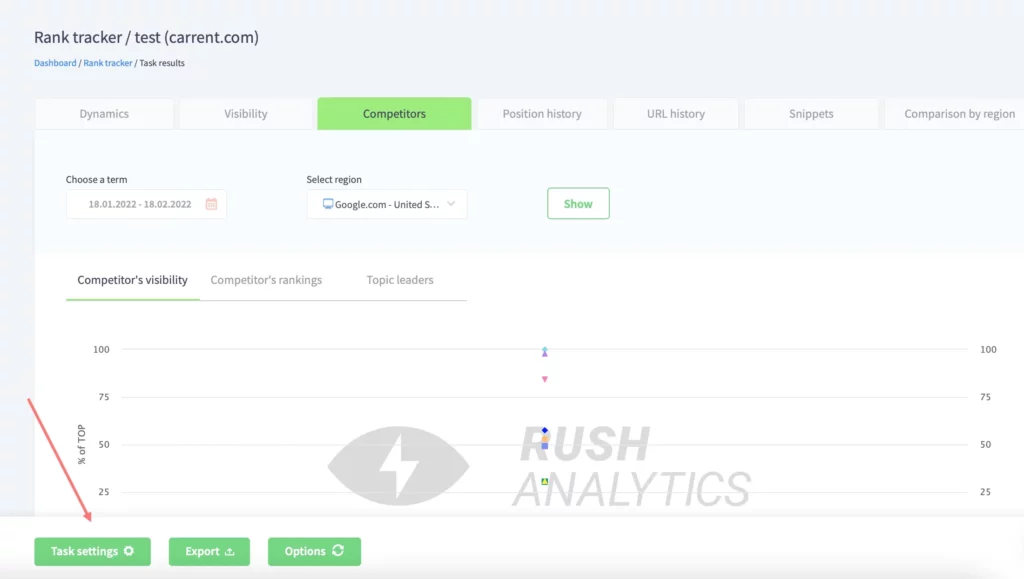 When editing a task, you can:
Change the name of the task
Specify a new URL
Check if an expert option is available or change it
Enter the domains of your competitors (up to 10 domains)
Change the frequency of checking positions

Regions to check
Here you can add and delete regions: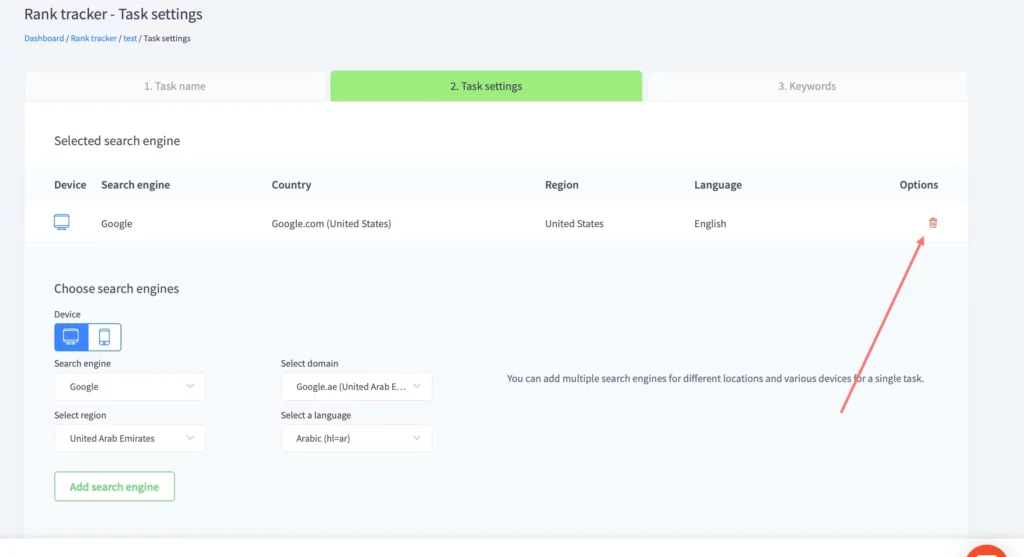 Keywords
Here you can add keywords to the task or remove them.
You can add or remove groups here
Target URLs can be added to a task, removed, and replaced here
Example of report data
Image of task graphs

Position history