As of July 1, 2023, Google Universal Analytics will be replaced by Google Analytics 4. So now we need to know, how to set up automatic reports in GA 4 and send them via email and share them with colleagues.
In Google Analytics 4, you can't set up recurring email reports for your GA4 resource, like you could with Google Analytics Universal. But you can still export and share them, and set up recurring alerts for your automated analytics data.
What is automated analytics?
First, let's discuss what automated analytics is, and then let's show you how to set up regular email updates. Analytics generates automated analytics to alert you to significant changes and trends in your data. When Google Analytics notes a trend or sudden change, it automatically generates information for your review.
Automated analytics identifies user trends and alerts you to noteworthy actions on your GA4 resource. The analytics will generate information for you automatically, but you can also create your own insights based on your needs.
You can share and export your automatic insights, which is a great way to distribute important news quickly. You can also set up recurring email alerts for your automated analytics, which is one of our suggested workarounds for not having recurring email reports in GA4. In the next section, we'll discuss how to set up recurring email alerts for automatic analytics data.
How to create automated reports in Google Analytics
To get the automated stats, just go to the left menu in your Google Analytics resource and click "Reports." When you look to the right, you'll see your automated insights in a snapshot.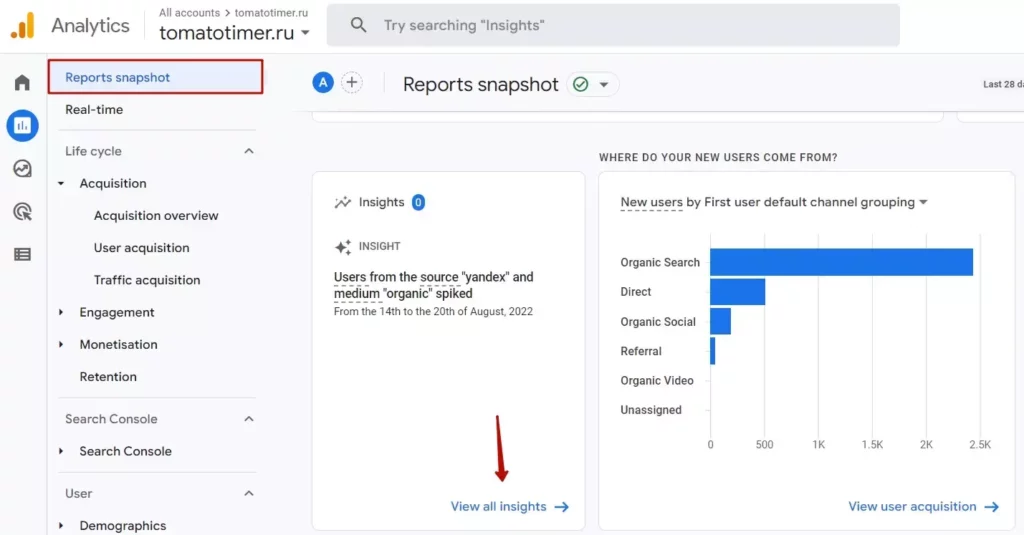 When you're inside, you'll see some automated analytics, and you can interact with your data in different ways.

Here, push "Create" to see a list of the automated analytics offered.

These are the ones Analytics suggests you set up based on your resource. You can also create entirely new automated information from scratch.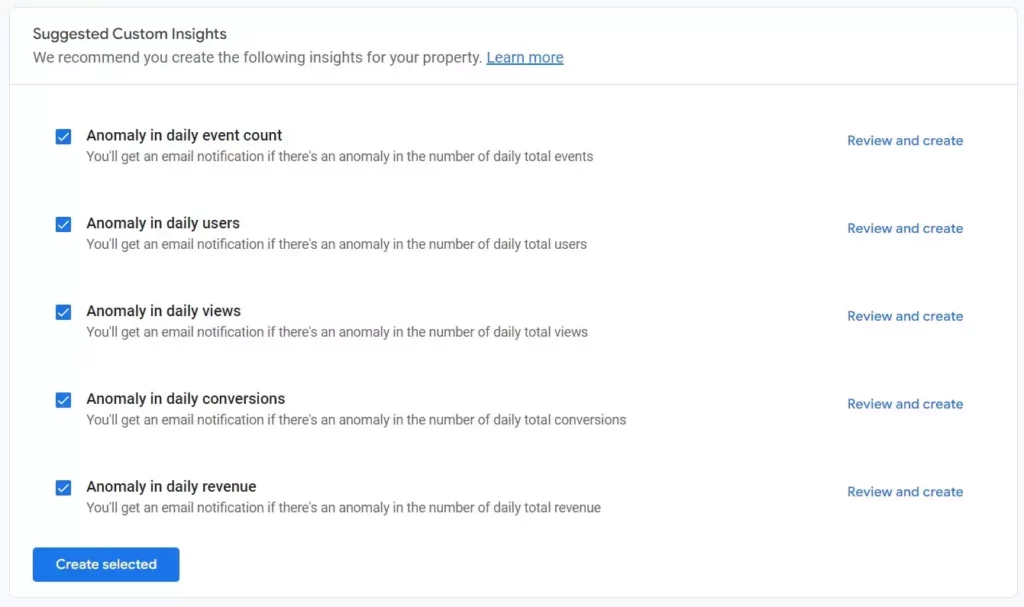 Finally, you can add email addresses at the very bottom of custom analytics.

Every email address you enter will get an alert when your insights are triggered. This is very important if you are a vendor and need to keep your customers informed. It's also very useful for alerting other team members of significant changes in your property.
How to share automated reports in Google Analytics
When you create an automated report in GA, you can select the data that will be included in the report. You can use templates provided by the tool, or create your own bespoke report:
Login to your GA account. Go to the "Administrator" tab at the top of the page and select the resource for which you want to collect data (if you have more than one)
Choose the type of report in the left bar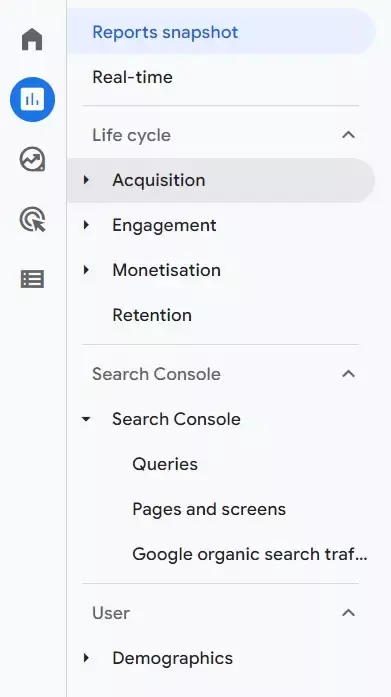 Set parameters and indicators, selecting the metrics and data ranges you want. In the advanced settings, you can choose additional properties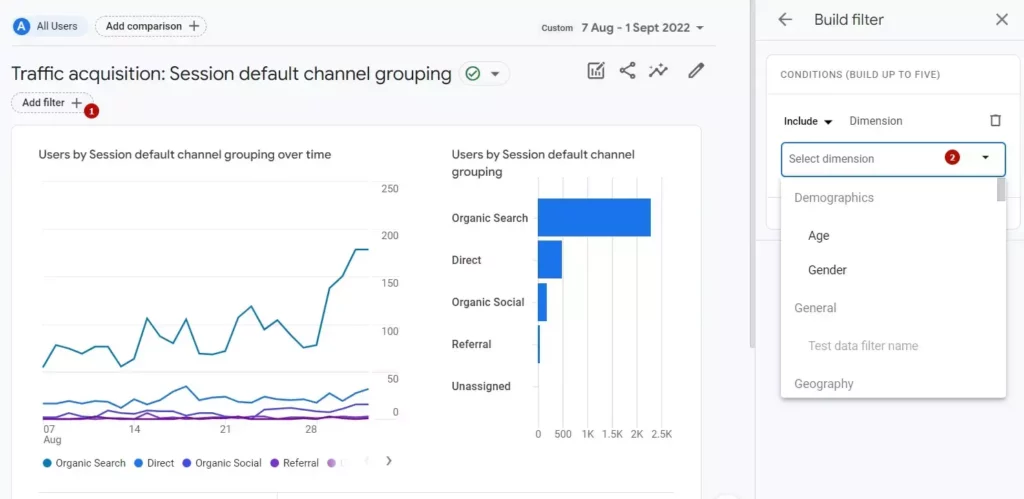 Save the report and adjust the frequency of updates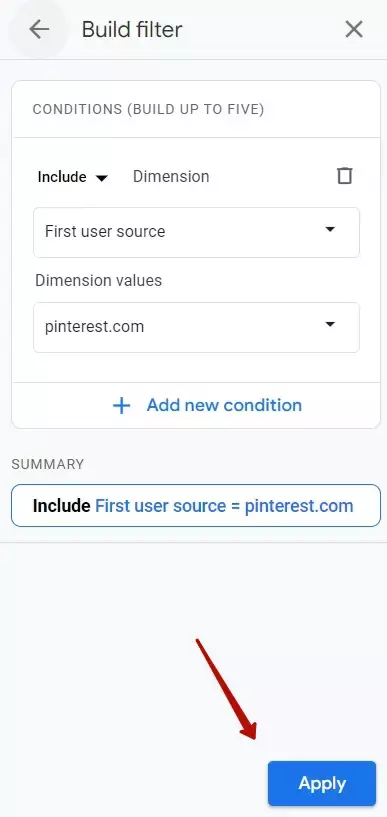 In the ad hoc reports section, select the one you want and click "Share" if you want to share it with your team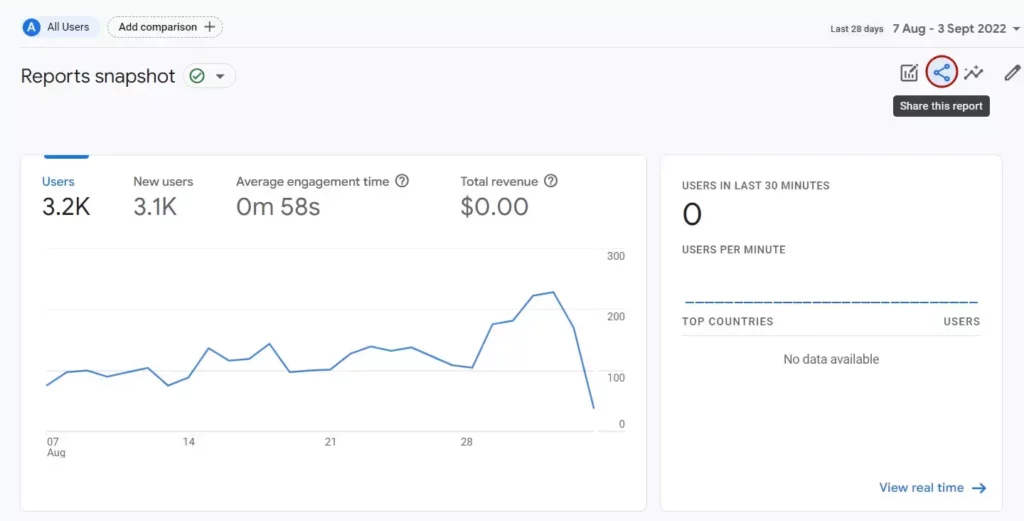 Now you'll get notifications whenever this insight is triggered. Depending on your needs, you can set up all kinds of alerts. For example, you can set up an alert when your traffic drops by a certain amount. Or you can set up an alert to track when a certain event/conversion from a new campaign is triggered.
These alerts can keep you updated on your new and existing campaigns and track any significant changes to your GA4 resource, so take advantage of automated analytics! It's a great way to simplify your data and save you time.
How to create automated real time reports in Google Analytics
If you need a real time dashboard, you can use third-party resources such as Google Data Studio. They can help monitor a huge amount of data and present it in a variety of reports that show statistics and trends in indicators. GA is also relatively easy to connect to websites and configure.
These tools make it quick and easy to create ad hoc reports based on data from GA. If you need to generate the same reports all the time, you can use templates.
Why should I use automated Google Analytics reports?
As we mentioned earlier, setting up email reports is the best way to save time when analyzing your performance. By setting up reports that include snapshots of your data, you can quickly assess your progress. Again, you can't currently do this with your basic GA4 reports, but you can still export and share them. You can also set up email alerts that are sent every time automatic analytics are triggered, which will save you a lot of time when you just want a quick look at your performance.
A great benefit of your GA4 reports is that you can easily share them with customers or team members. This is the best way to share all the important data collected in your GA4 resource, so you need to know how to do it, and we'll show you how in the following sections.
Another huge benefit of recurring reports is that you can focus on what's important. You may not have to dive deep into your data every week, but you still want to track new campaigns or just key events. Setting up custom automated analytics allows you to do just that. You can set up analytics for anything you want to track in your facility, and set it up to notify you via email every time those analytics are triggered.
Setting up reports that include comparisons is a great way to narrow down issues and successes. By including comparisons in your automated analytics, you can quickly see what's working and what's not, and decide where to focus your attention. In addition to saving time, automated reports allow you to think strategically when it comes to solving problems in accounts. All the important information is in one place. You don't need to go into your account unnecessarily, only to check your email.