Do you know what keywords your website is ranking for? If not, you're in for a surprise. Ranking for the wrong keywords can be costly and counterproductive. In this blog post, we will show you how to find the right keywords for your website using a variety of tools. We will also discuss how to explore the competition and see what keywords they are ranking for. By doing this, you can gain an advantage over your competitors and improve your website's search engine rankings!
Below are some online tools that we recommend to use when conducting keyword research. It's always better to use as much as you can to discover as much data as it is possible. Also check our price comparison chart at the end of the article!
Ahrefs
Ahrefs takes a well-deserved first place in our list.
It's an incredibly useful and powerful SEO tool that makes it easy to find out what organic keywords your website is ranking for and which of your competitors' websites are ranking higher than yours. By using Ahrefs, you can identify potential keywords and track your progress in improving rankings for those keywords.
The keyword research process is easy – all you have to do is find the website or brand in question and then look for the "Site Explorer" section of Ahrefs and type in the URL of a website or a page.

As soon as you find it, you'll have insight into all the keywords that are helping that website rank on Google.search engines like Google.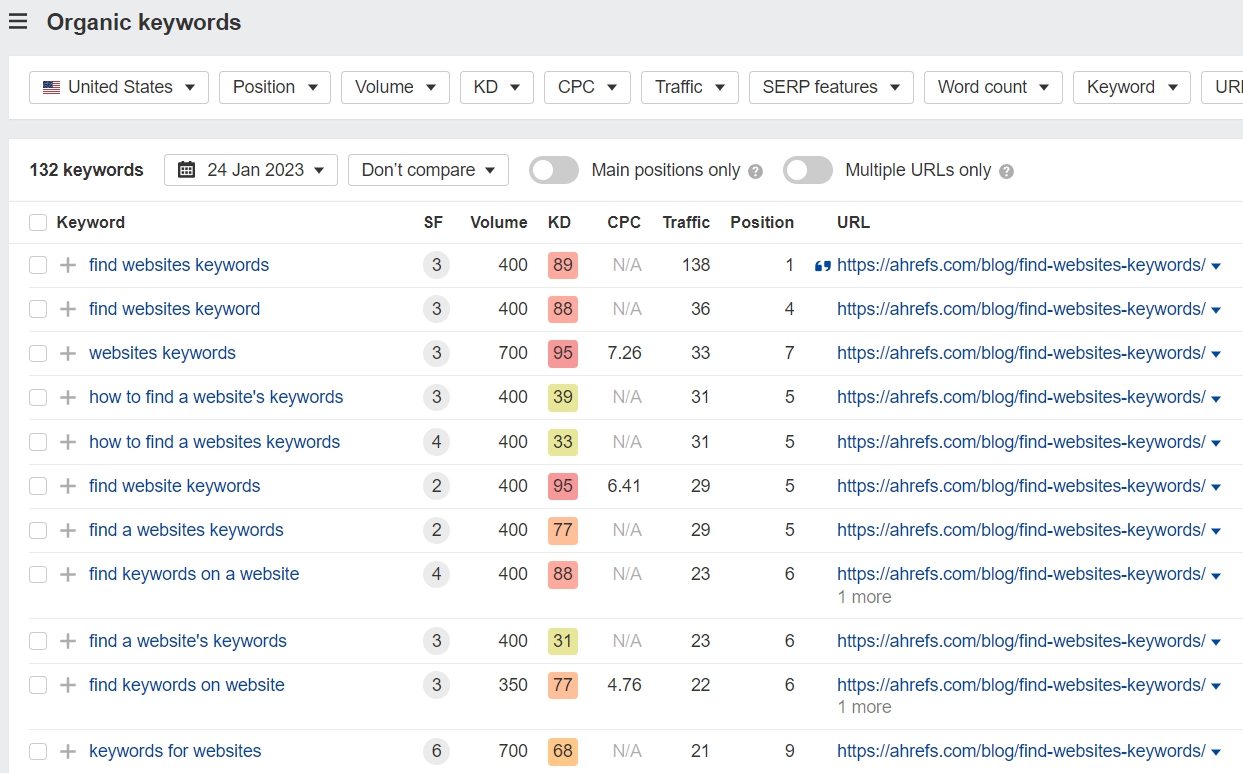 With its easy-to-follow steps, Ahrefs makes it straightforward for anyone looking to find out more about their competitors' keywords.
Pricing
Depending on the Ahrefs product, the price can range from $99 per month to almost $500 per month per user. For most Ahrefs products, there are also annual plans available at discounted prices. They can be a better value than the monthly plan, depending on usage.
KWFinder
KWFinder is a paid tool by Mangools that allows you to research keywords of a web page or site. To find keywords, you should enter your competitor's domain, and KWFinder will provide a comprehensive list of all their relevant keywords. With this keyword research tool, you can adjust your own SEO strategy accordingly and find new ways to get ahead in search rankings.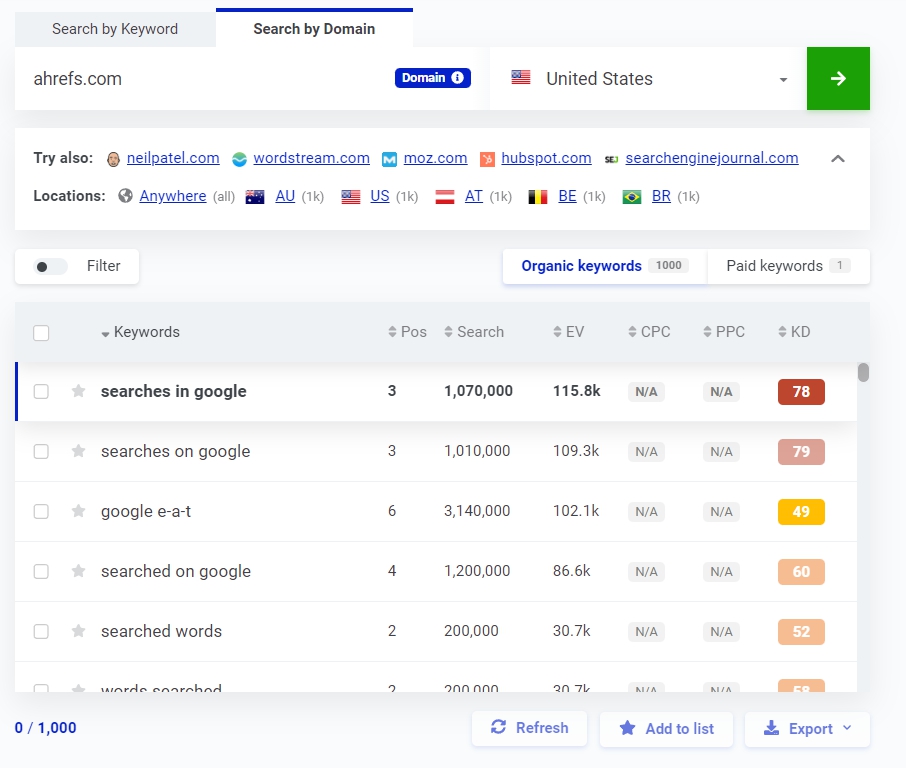 Pricing
The most popular plan is the KWFinder Premium package, which costs only $29.90/month. It offers access to KWFinder's main features like keyword lookups, SERP analysis, video keywords, and much more. For those who prefer a longer commitment with KWFinder, they offer both 6-month and annual plans at discounted rates of $25.92/month and $19.90/month respectively.
SEMRush
To find out what keyword search terms your competition is ranking for, consider using keyword research tools like SEMRush. SEO keyword research process is quick and easy here – the only thing you'll need is the domain of your competitor's website. From there, SEMRush lets you see keyword search volume, keyword difficulty, and potential keyword opportunities that will allow you to hone in on more successful search engine rankings.
Best of all, SEMRush makes it easy to track keyword performance over time to guarantee that your keyword strategy continues to create results.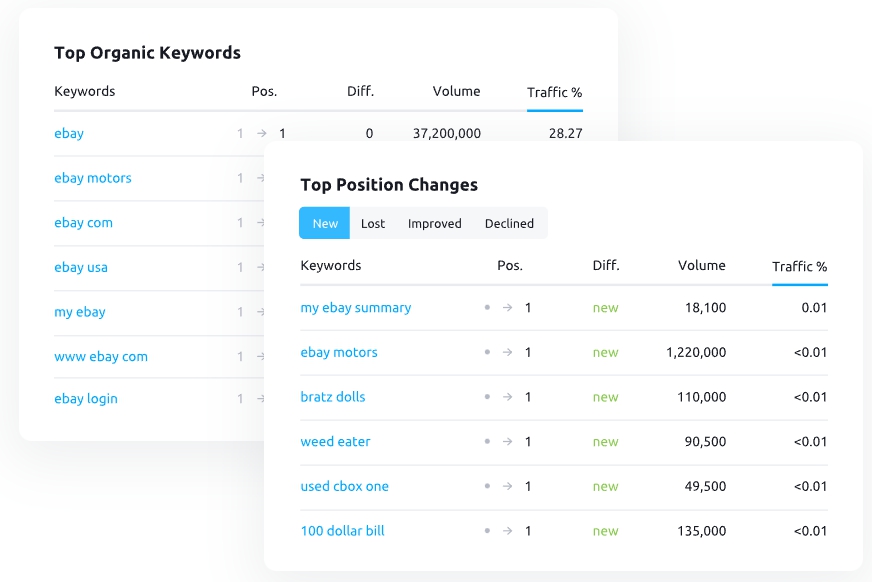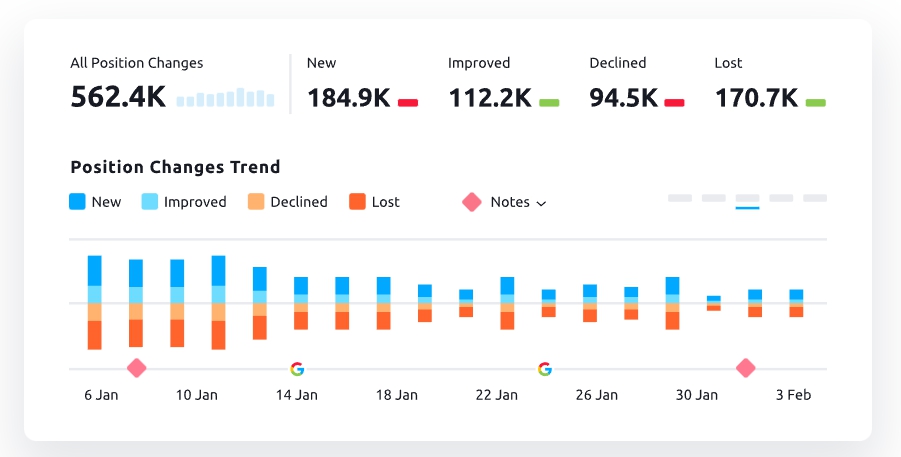 Pricing
The prices for subscribing to SEMRush are great for those who want advanced search engine optimization tools. Depending on the package that you choose, prices range from around $99 per month to almost $600 per month – allowing you to customize your subscription to fit your needs and budget. Each package allows access to keyword research, website auditing, backlink analysis, content marketing ideas and more, depending on the plan.
Serpstat
Serpstat is another great tool that helps find the right keywords your competitors are ranking for and use them for ideas for specific keywords you could rank for as well.
First, sign up for a free account on the Serpstat website. Next, enter the domain name of your competitor in the search bar and click search. This will bring up your competitor's keyword report, which contains all the search queries they're currently ranking for on search engines such as Google and Bing. Finally, check the search insights displayed to determine which words are best to target in an SEO campaign.
With this data at hand, it's easy to develop new keyword ideas tailored towards ranking higher in search engine results pages.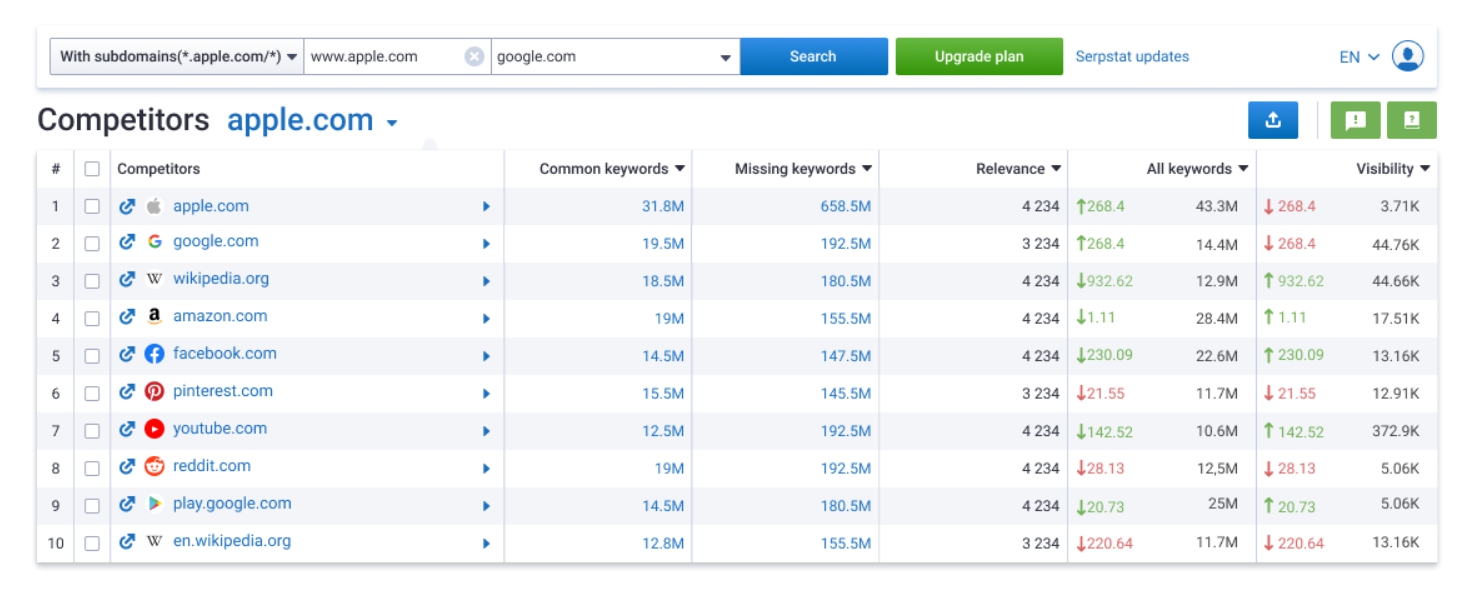 Pricing
Monthly prices can range from $19 for up to 10 given keywords and 500 results, to $299 for an unlimited number of keywords and 5 million results. Additionally, Serpstat offers discounts with longer subscription plans, like quarter and annual prices.
Ubersuggest
Ubersuggest allows you to explore webpage keywords by using Keywords by Traffic tool. Here, you can find the organic keywords driving traffic to a site or page URL choosing language and country.
The Keyword Overview tool allows you to discover the estimated monthly search volume for a target keyword, as well as other related keywords.


Pricing
Ubersuggest offers this service in three different pricing tiers – Basic, Professional, and Advanced. Rates start at $25 per month for the Basic plan, $35 per month for the Professional plan, and $54 per month for the Advanced plan.
Keywordtool.io PRO
To find keywords on a website – yours or your competitor's – first type in the URL in the search engine box of the tool. After selecting your search engine, Keyword Tool will generate hundreds of keyword ideas related to the particular website you have entered. You can then view keyword phrases and select the terms that you believe are best suited for SEO campaigns, or assign them with custom tags to help segregate and prioritize your list of chosen keywords. It's a quick and easy process that will give you an edge when it comes to optimizing your content for search engine success!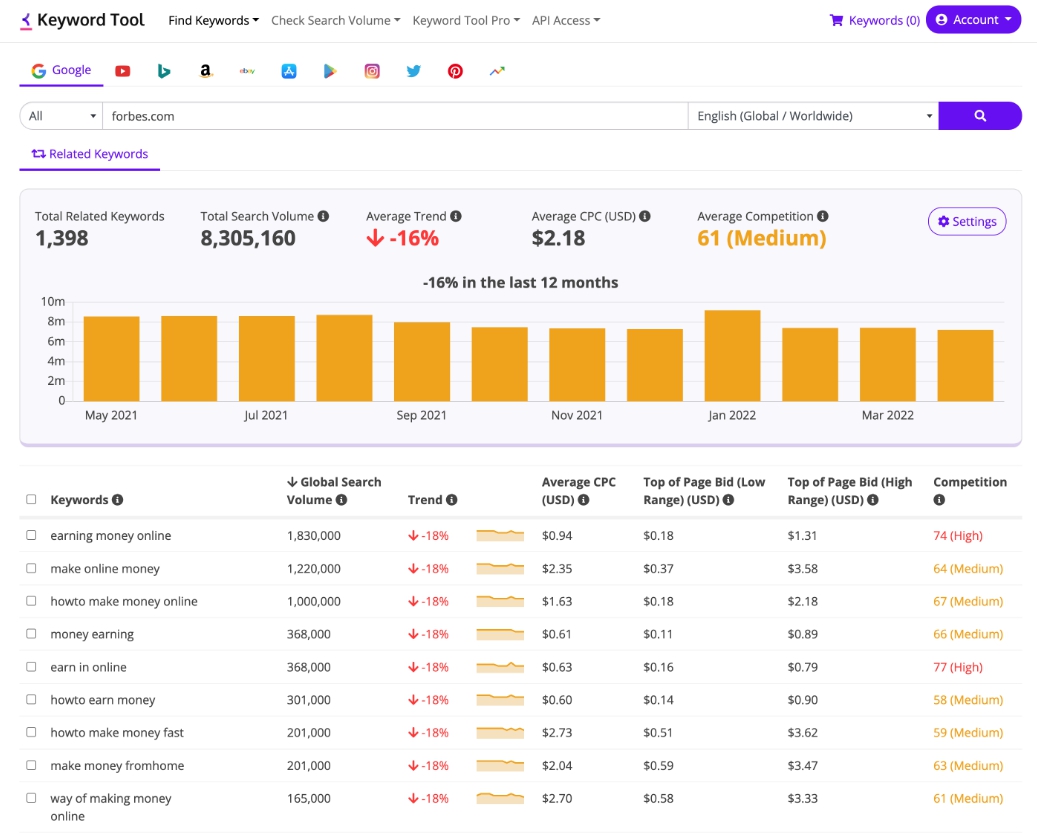 Free keyword research tools
Free keyword tools are a great way to get started with your SEO research. However, they have their limitations regarding the depth and accuracy of data. If you want access to reliable and comprehensive data, you'll need to invest in a paid tool. Nevertheless, a free keyword tool can still be useful for getting quick results and identifying high-level trends. Additionally, free keyword tools may have features that are limited compared to those offered by paid versions.
A free keyword tool is often a great way for beginners to search for keywords on a website and receive more keyword ideas to start with.
Keywords Everywhere Extension
Free Keywords Everywhere Extension for browser allows you to find out the keywords that a particular page is ranking for. All you have to do is install the extension and fill in your website address in the web page bar. From there, it will pull up a list of all the keywords that hold monthly search volume and appear on that particular page.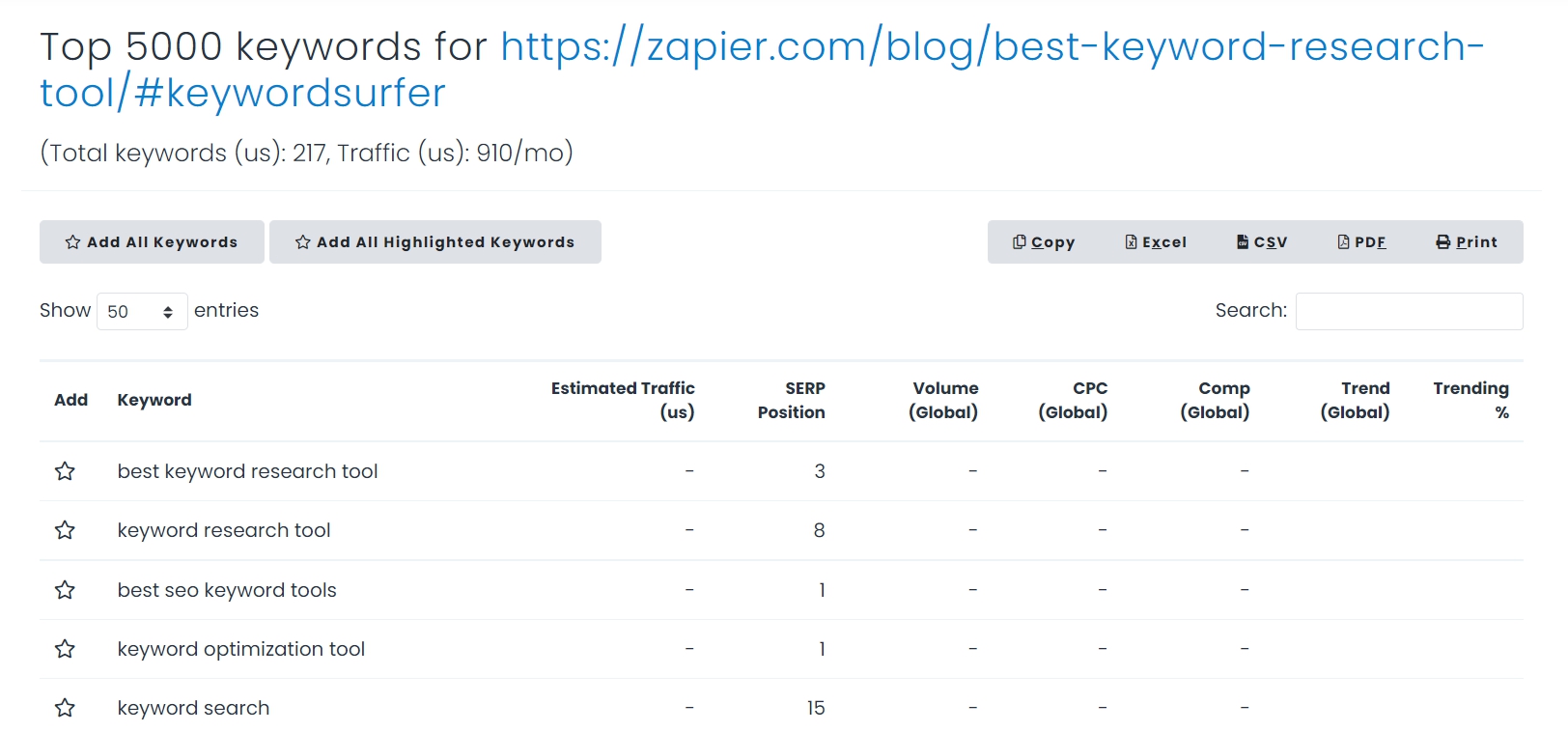 This is how it looks like in Google Chrome
This makes it much easier to identify which keywords you should focus on for your own SEO strategy by looking at what's currently ranking well with your competitors. Once identified, these keywords can also be sorted into various categories such as high-competition, low-cost-per-click, or any other combination of criteria to create a comprehensive keyword map!
Google Keyword Planner
Using google keyword planner is an effective way to find out which keywords your competitors are ranking for on the search engine. The first step is to access google keyword planner by logging into your Google Ads account or creating a Google Ads account. Then, you need to create a new ad group – this allows keyword planner to provide you with relevant keyword ideas. Once you have established your ad group, you can start to see the list of competitor keywords that show up.
You can sort through the list by focusing on keywords such as cost-per-click and monthly searches to refine your choices.
Google Trends
This free keyword tool gives you access to valuable information about the most relevant keywords being used right now in your market. To use it, simply enter the topics related to your business and industry that you want to pursue. The results list related topics as well as their search volumes, which will allow you to establish what people are looking for and how often they're searching for it.
Once you know what keywords are trending and which have high search volume, you can start identifying which of these are the ones used by your competitors when optimizing their content. By analyzing those, you can create an effective strategy to guarantee that you also benefit from ranking higher on popular searches.
Keyword research tools pricing chart
| Tool | Prices from, monthly | Features and perks |
| --- | --- | --- |
| Ahrefs | $99 | Best functionality, number one for SEOs. 2 months free when paying annually. |
| KWFinder | $49 | 35% discount with annual plans |
| SEMRush | $119,95 | 17% discount with annual plans |
| Serpstat | $69 | 20% discount with annual plans |
| Ubersuggest | $29 | Save 90% with lifetime plan |
| Keywordtool.io | $199 | 20% discount with annual plans |
Prices in January, 2023
Our tips on how to use these tools efficiently
When researching keywords, it's important to take into consideration the search intent in order to find the most reliable results. If done correctly and thoroughly, you should be able to create a keyword list that is not only helpful for your website, but also aids in optimizing your websites' SEO performance. Of course, the time spent on properly mapping a keyword list pays off in the long run – you'll have a powerful source at hand ready to help boost your website visibility.
Conclusion
Identifying the right keywords on a website is an important part of any digital marketing strategy. Use a variety of keyword tools to identify the keywords your webpage is ranking for in SERP. Paid tools will likely provide more accurate and actionable information, but free tools can be helpful as well. Try out a few different options to see what works best for you and your needs.
By using a combination of both paid and free tools, you can get a good idea of the keywords that are driving traffic to a website. This information can help improve your website's SEO or help you choose which keywords to target in your next PPC campaign.
---