If you manage a website, you know how important it is to keep your content fresh and up-to-date. One way to do this is to regularly submit your pages to Google so that they will recrawl your site and update their search results. In this blog post, we'll show you how to get Google to recrawl your site quickly and easily. Stay tuned for some tips and tricks that can help improve your website's visibility in the search engines!
An overview of Google's recrawling process
Google's crawling schedule for each website in its index is based on a variety of factors such as the quality of the platform hosting the site, its authority level, page count, and content freshness. For instance, websites that are updated only occasionally will be crawled more slowly than those with daily updates. Understanding these variables can help you optimize your website to ensure it gets indexed more quickly and frequently by Google.
If you want to fast-track the recrawling process, here's how:
Submit your URLs through Google Search Console for faster indexing
Include a sitemap in your Google Search Console account
Link new and relevant pages internally within the website
Receive external links that direct back to freshly updated content
When do you need to re-index your site?
You won't need to regularly demand Google re-indexing your whole website. However, in certain occasions, requesting a site recrawl can expedite the process and get any changes made quickly indexed by Google.
Site-Wide Changes
It's always a smart idea to request re-indexing of specific pages on your website when you make major changes, such as transforming the URL structure or shifting from http to https. Doing so ensures that all pages receive these updates and remain up to date with new information.
Domain Transfer
Prior to any domain switch, it's wise to ask Google to explore both sites so that their search engine index will quickly adjust.
Re-branding
Re-branding can be a great way to refresh your business and help google to better understand what you are all about. It involves changing page titles, site structure and URLs which allows search engines crawlers to accurately identify your webpage as an authoritative source for keywords. Re-indexing is then requested to ensure the Google database is kept up-to-date with any changes that have been made. This ensures those who visit your website can easily find the information they are after with just the click of a button. Reindex helps Google to understand that the content of your website has changed from before and redirects traffic appropriately, making Google searches even more effective for everybody!
Website re-design
When making major changes on your website such as removing or adding certain images, content, or changing a theme or structure of the menu, it's important to submit your site for re-indexing. This will help the process of crawling and indexing go smoother so that the new information is correctly noted and distributed to users. Doing this helps SERP accurately present your updated website in a timely manner once the changes are made.
After a comprehensive content audit, you may have pages that require deletion, alteration or redirection. It's essential to notify Google of these changes rather than waiting for their web crawlers to discover them independently.
After Google Penalty
After going through a Google Penalty, the typical protocol is to make any necessary changes and then submit a reconsideration request (for manual penalties) or wait for the next update (in cases of algorithmic penalties). However, there are certain circumstances where asking for site re-indexing will expedite this process. With these steps, you can quickly discover whether your website has fully recovered from its penalty or not.
If your website is penalized for having too many ads, you can make the necessary modifications to ensure that it follows Google's criteria and request a re-indexing. This will help improve your ranking in search engine results pages and provide more visibility to potential visitors. Even though this does not ensure that you will be freed from the penalty directly, it may hasten the process.
When do you need to recrawl individual pages?
In addition to requesting Google to reindex all of your URLs, you can manually request Google prompt a recrawl of individual webpages. This is particularly useful in scenarios such as when:
Posting about the newest topics
Utilize 'Request Indexing' feature to get indexed quickly and be one of the first to break this news! Whether it is a hot event or ongoing trends, your post will be seen in no time.
Implementing structured data to a post
Implementation of structured data to a post can help elevate your pages in search results and give them more visibility. You can ask Google to recrawl the individual URL with the updated information via the re-index request button in Search Console — all after you add schema markup to the existing post! It's so easy, and you can re-index some of your posts with the added FAQ schema markup in half an hour. Talk about efficiency!
Content changes to a page
When you've made a substantial alteration to the content of an article during your review process, it's wise to ask Google to re-index that particular post. This will absolutely expedite the indexing of a new post.
Enhancing the headline and meta description of a vital post
When you adjust the page title or meta description of a post that is successful, use the re-indexing feature to notify Google. For instance, when I changed my post's meta description length to comply with new standards, it took only a few hours for Google to update this information in its search snippets after submitting my request for re-indexing!
Request indexing through Google Search Console
The easiest and most straightforward way to ask Google to re-index your site or a specific page is by using the 'Request Indexing' tool in Google Search Console. It's fast, simple and efficient!
Log into your account and navigate to the URL Inspection Tool.
Then, enter the URL of the page you want to get re-crawled in the box provided and click the Request Indexing button.

After clicking, you will be able to view the crawling and indexing data for that particular URL in the search results.
Regularly monitor the crawling and indexing table to keep track of when Googlebot last visited your website.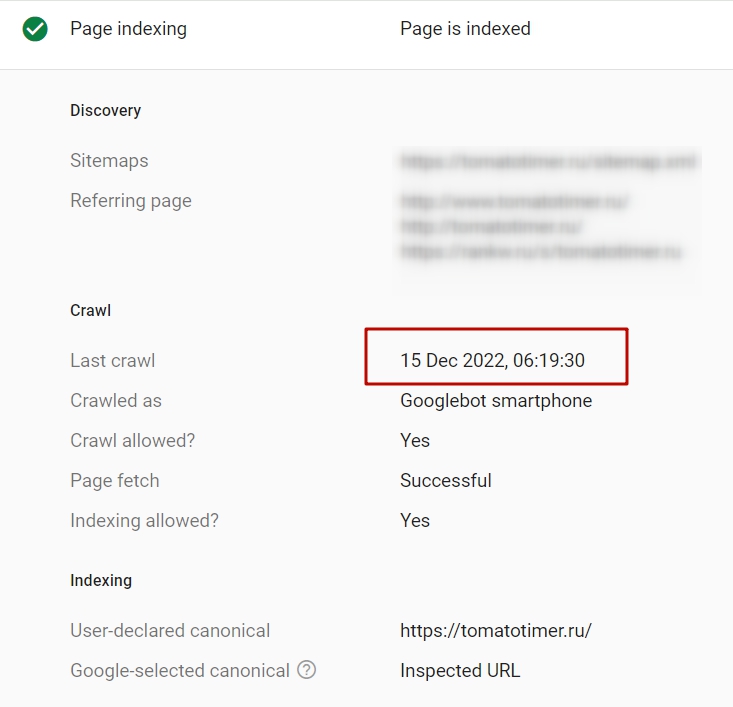 How long does it take for Google to recrawl a page?
The time it takes for a page to be recrawled by Google largely depends on the quality of the existing content there, its relevance and authority, and the rate of new content creation.
Google typically crawls the most important pages more often than others, while a website like CNN will be crawled much more frequently than a blog site that only adds new pages every few weeks.
Google itself advises users that "requesting a crawl does not guarantee that inclusion in search results will happen instantly or even at all. Our systems prioritize the fast inclusion of high quality, useful content."
Take heed of this reminder – always craft content that is authoritative, engaging and pertinent to your desired audience. Content Fusion can help ensure you're doing just that. This optimizer gives the context behind key concepts for you to include in your generated material. Rather than providing you with a pre-written piece, it will suggest topics to investigate so that the topic is explored thoroughly and comprehensively.
Is there a limit on how many times to request indexing?
Although Google removed all documentation regarding crawl limits, they have officially stated via Twitter that there is still a limit to how many times you can use the request indexing function for the site as a whole or for individual pages. So make sure you use it responsibly!
Add a sitemap to Google Search Console
To keep Google updated on changes to your website, consider using an XML sitemap. This map is made up of URLs from your site that you'd like included in the Google indexing process. Each URL also has a timestamp indicating when it was most recently changed – for example:
<lastmod>2022-07-17T13:17:37+03:00</lastmod>
Utilizing this feature can ensure that all updates are effectively communicated to the search engine and properly indexed!
How to submit an XML sitemap to Google Search Console
Log in to your account.
Choose the property you want to submit an XML sitemap file for.
Click on Sitemaps in the right column menu and simply add the sitemap URL.
This will help start crawling and indexing updated URLs that are listed in the XML file right away.

Add relevant internal links
If you have modified the content on a page, one of the most efficient methods to alert Google is through internal links. To ensure that your updated material is discovered quickly, consider linking it from high ranking pages of your website as these are more likely to be crawled and indexed sooner.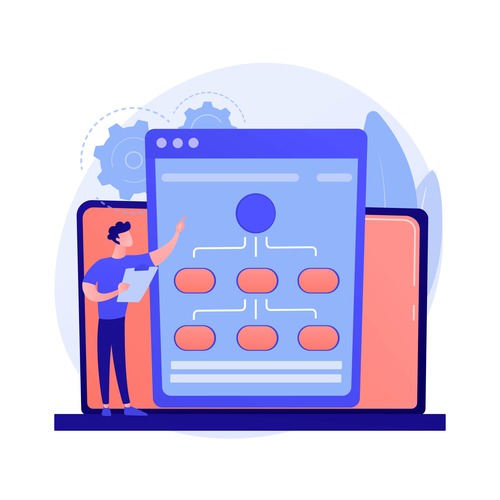 Gain backlinks to updated content
If you've just updated some content, look for opportunities to gain backlinks from other websites.
The more high-authority backlinks you have pointing to your updated content, the sooner Google will crawl and index it. Link building is essential for organic search performance, so make sure you have a relevant link building strategy in place.
Why isn't Google recrawling my website?
Google can be prevented from recrawling your site if you have blocked it in the robots.txt file or via a noindex meta tags, or if you have blocked specific URLs using the URL inspection tool.
If you want to force Google to reindex your website, you can use the URL inspection tool, but bear in mind that using this feature is still limited.
How to know when Googlebot hits your site
Google Search Console provides a detailed report of all the pages that have been crawled by googlebot. With the help of a URL Inspection Tool or updated sitemap, you can easily monitor Googlebot's visits to your site. Taking this step ensures that your appropriate changes have been noticed and accepted by Google. Here are some of the methods available for tracking: using a URL Inspection tool, checking an Index status report – it doesn't take much effort but will bring peace of mind knowing that all is well with your website!
URL Inspection Tool
The Inspection tool allows us to examine the URLs in detail. You can request details about each URL, such as information pertaining to its current indexing status. The live test will then render a view of what Google sees when it crawls this page. Once testing is done, you'll see a screenshot that gives you an idea of how your webpage appears on search engines like Google and make sure all the visual elements of a single page are working properly – so don't forget to take one!
Index Status Report
Staying informed about which of your web pages have been indexed by Google is vital, especially when someone on your team makes a technical alteration that may result in the page becoming deindexed. Thankfully, this report will let you know exactly what has occurred and help guide you to the current version of your page. To get more information about how this works, refer to Google's comprehensive Index Status Report guide.
Conclusion
By following these steps, you can get Google to recrawl your website.
All in all, getting Google to recrawl your website or individual URLs can be a great way to help you get the most out of your SEO efforts and appear in Google search results. When done the right way, it can help you rank better in search engine results pages and increase visibility for your website!
FAQ
What is Google recrawl?
Google recrawl is the process of prompting Google to visit your site and index any changes or updates you have made.
How do I recrawl a Google page?
You can request Google to recrawl page by creating internal links to the new content, gaining backlinks, and using the url inspection tool. You can also track crawls with the URL Inspection Tool and Index Status Report.
How often does Google re-index pages?
Google crawls the web constantly in order to update their search index. Generally, more important or popular pages will be recrawled more frequently than less important pages. The frequency of recrawling depends on a variety of factors, including site structure and quality, site speed, and the number of backlinks. In general, the more frequently updated a site is and the higher quality of its content and links, the sooner Google will crawl and index it.