Google's knowledge panel
Google's knowledge panel is a box that you sometimes find in the search results on the right-hand side of the screen when you search for a company. You can find it with many search queries. It presents the results of the Google Knowledge Graph, which can be seen as an engine that connects all kinds of data that Google finds on the web.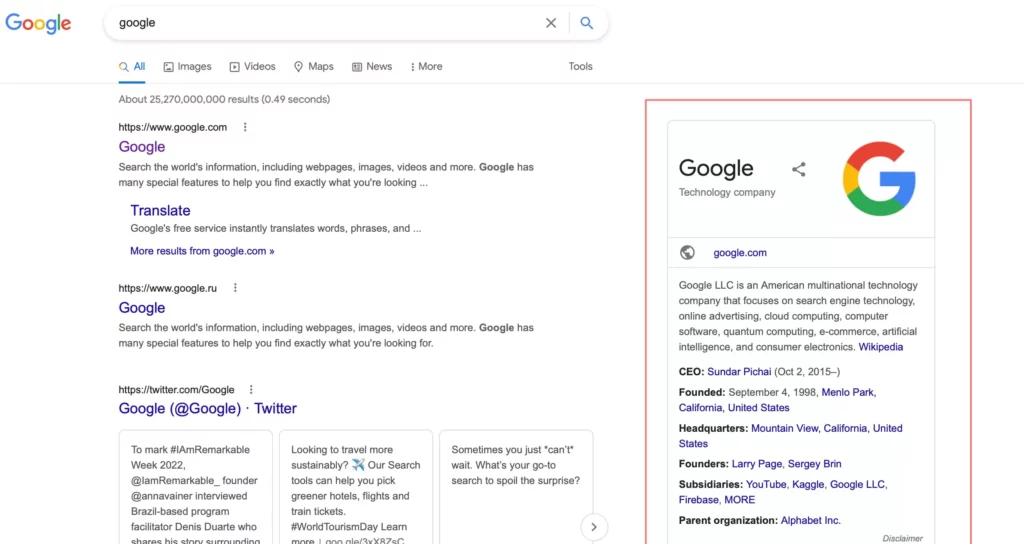 The search engine giant uses information from authoritative sources such as Wikipedia. If you have a local, branded, or personal dashboard, you can influence what Google displays in your dashboard. We'll talk more about this in this article.
What is a Google Knowledge Dashboard?
A knowledge panel is a field where Google summarises information on the Internet about an entity. It can be a person, a place, an organisation, an object, an event, etc.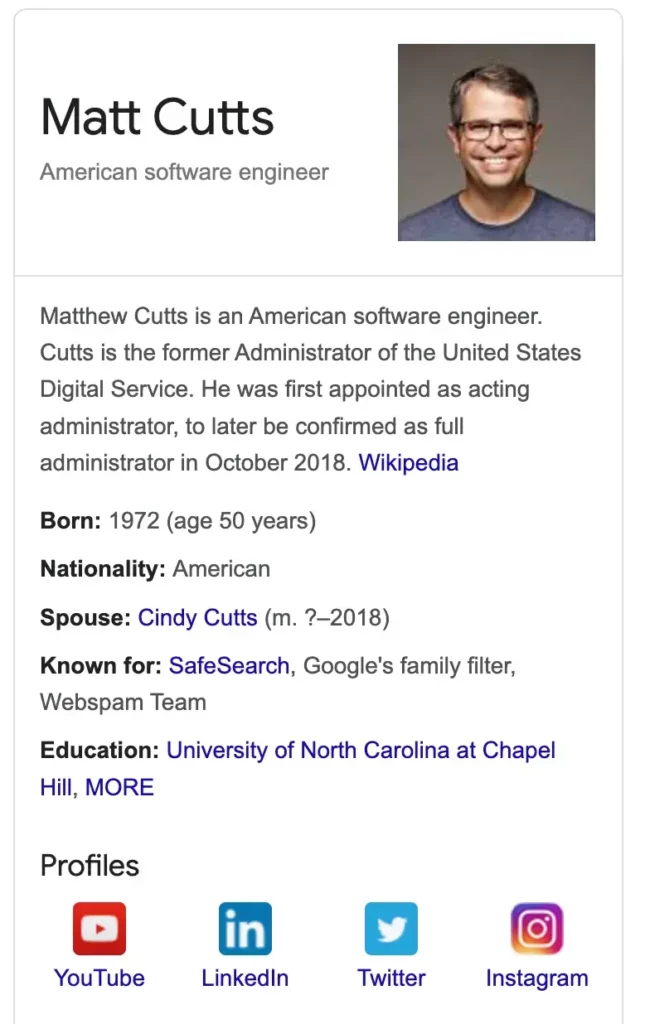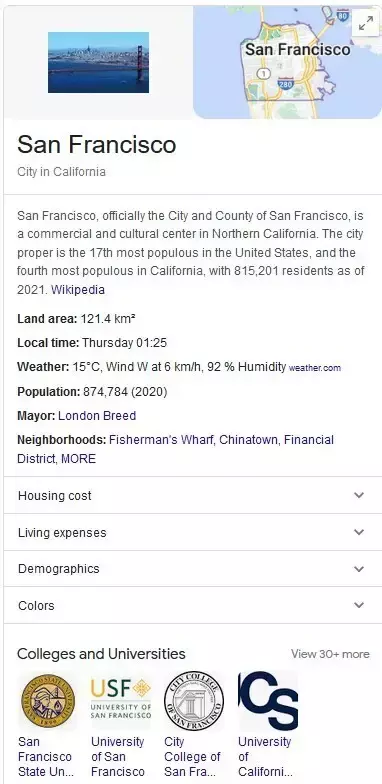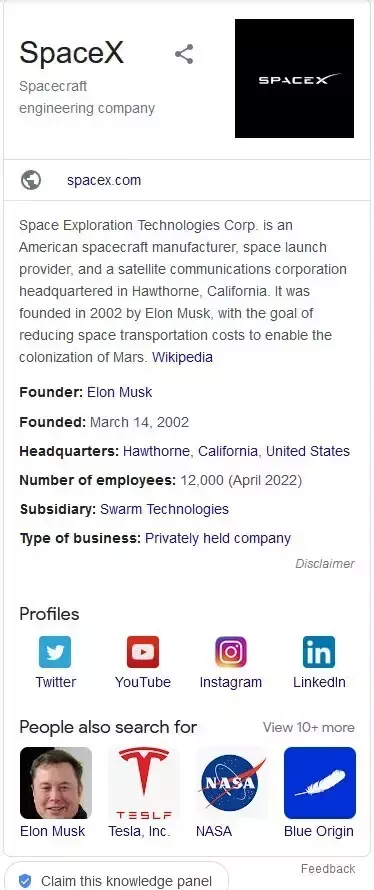 The search engine gathers this data from various sources, which are sometimes verified and provide their own information.
The entities that appear in the dashboard are in the Google Knowledge Graph. If they don't, it's because Google doesn't have enough reliable information to include it.
A variety of information appears in the knowledge panel. For example, if you're looking for the name of a company, it might appear when it was founded, the name of the founders, the value of the shares, the location, and so on.
When it comes to local businesses, the buttons may appear asking for a quote, an appointment, schedules, images, etc. In this way, the information varies depending on the data available online and the type of search.
Artists can also have their own knowledge panel. For example, if you are an actor, you will see films in which you have been involved. In the case of a singer, songs, albums or channels where you can listen to your music.

Dashboards are automatically generated for entities that are in the knowledge diagram. In principle, the information available online is collected, but representatives can claim it and update the data displayed.
Similarly, they have a comments section that appears at the end of the box where third parties can suggest changes to the information.
There are different Google Knowledge Panels:
If you are interested in having Google display a local dashboard for your business, the first step is to open a Google My Business account. First it will check if you are the owner of your company. You can then add or edit all relevant information about your business, such as Address details, Opening hours and Photos.
Brand and personal panels
It's not possible to apply for a branded or personalized dashboard. Google will decide if you or your brand deserve a dashboard. If you or your brand has enough credentials, a panel will appear. Brands and individuals who are famous and, for example, Wikipedia Pages often have knowledge panels as well.
Sources of information for the Knowledge Graph
Reliable and up-to-date information about an "entity" – a person, place or object – in Google Knowledge Panels comes from the Knowledge Network, which has been operating since 2012. The smart search engine understands facts and information about entities from material published on the web: both open source and licensed databases. Over 500,000,000,000 facts about 5,000,000 entities have now been collected. On average, 100 facts per entity.
Wikipedia is the most frequently cited source, but it is not the only one. Google uses hundreds of sources on the Internet, including licensing data that appears in its music, sports and TV knowledge panels. To create carefully vetted original content on health issues, the search engine works with health care providers. Google also relies on special coding that content owners use to indicate upcoming events.
Why is it important to have a knowledge panel?
If you want to be found by search queries such as your name, brand or company name, Google's knowledge panel is really useful!
KEY POINT
If Google chooses to show you or your company in this panel, you dominate the search results on the right-hand side of the screen in desktop search. In Mobile, the panel will appear in between the other results, but it's also pretty dominant.
This way, the knowledge panel ensures that your company or brand stands out in the search results when people search for it. This gives you a lot of page views. It makes sense that if people search for you or your brand name, they are likely to want to find your site. Thus, Google provides the best results here.
What is shown in Knowledge Panels
A title and summary of the topic
A more detailed description of the subject
A picture or picture of a person, place or object
Key facts such as the date of birth of a famous person or the location of an object
Links to personal social media profiles and official websites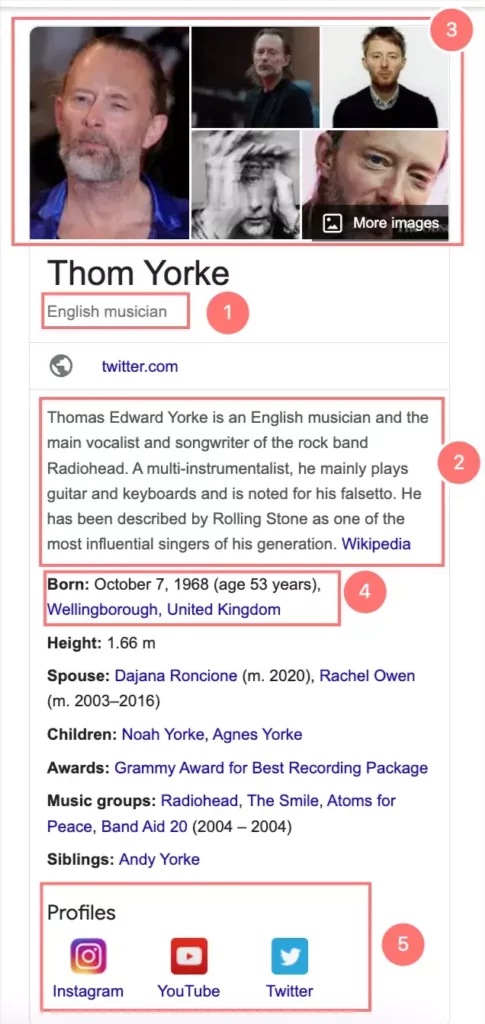 Benefits of Google knowledge panel for SEO:
Obtaining a knowledge panel provides greater visibility in search results because it appears in a known space. If you search from your computer, you will see it on the right side of the screen.
This space is independent of the organic results. Thus, it is an additional section where your brand can appear. With the difference that the user can find the information they are looking for without having to access another page.
It also gives you the opportunity to stand out from your competitors by drawing customers' attention to the panel. And if you want information from the competition, you can also get it.
It will even help you find out who the competitor is, thanks to the He also searched section.
Business reviews are also displayed in the knowledge panel, and this is beneficial for SEO. On the one hand, it helps to keep entity information up to date, and on the other hand, it helps to build trust between users.
Other features that can be used in the knowledge panel are questions and answers, linking to the internet and social media, checking product availability, etc.
The ability to share the dashboard on social media is another advantage as you gain even more visibility through user actions.
The possibilities offered by this section are very wide. If you know how to take advantage of all these features, you will improve your web positioning.
The Knowledge Panels' mobile output:
When Google first launched Knowledge Panels, most search activity took place on the desktop. There was enough space to simply display the Knowledge Panels along with the search results. Today, most search activity takes place on mobile devices, where the screen size does not allow for the full display of Knowledge Graph information.
Therefore, on mobile devices, information from the Knowledge Network is presented as one or more Knowledge Panels, placed individually among the common results.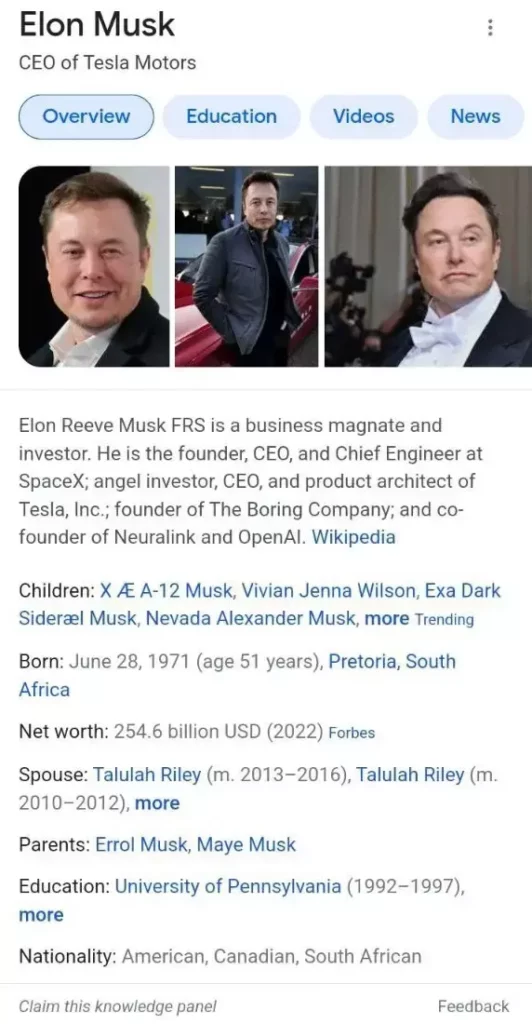 How do I get a knowledge panel for my company?
As with all types of search results, Google decides whether a knowledge panel appears in search results. If you are a local company, there are a few things you can do to increase your chances of ranking with a knowledge panel. Brands and individuals find it much harder to get such a knowledge panel.
KEY POINT
What also helps is to check your website with Google Search Console and add structured data markup for companies. For example, Yoast's Local SEO plugin helps with this.
Thus, Yoast SEO structured data diagram helps Google Knowledge Graph connect the dots. However, this doesn't mean that you necessarily get the panel, but you offer the data for the panel in the best possible way.
How can you influence your company to get a data box like this:
One of the recommendations for getting a knowledge panel on Google is to publish an article about the brand on Wikipedia. To do so, you need to comply with the site's terms and conditions to ensure that the publication is not rejected. If you are a self-approved user, there is a better chance of getting published.
In addition to Wikipedia, there are other sites that provide information to Google, such as those mentioned earlier. Thus, increasing your presence in them will help provide information that will be added to the knowledge graph.
User opinions will be useful for building trust and managing their reputation. Reviews are displayed in the local knowledge dashboard and influence potential customers' decisions.
You can get reviews through Google or on third-party sites.
Conclusion
Knowledge Panels are a great asset to have in your search results. For local panels you have to make sure that you do everything possible and necessary to create a possibility of getting them. For branded or personal panels it is much harder to influence the chances of getting them. It all depends on your level of authority, and this is something that probably cannot be changed overnight.
---